The Central Conference Pensions (CCP) provide long-term retirement security for UMC clergy in the central conferences outside the United States. This program helps assure sustainable pension support to central conference ministers and their surviving spouses in retirement. Pension plans are now in place across Africa, the Philippines and Europe, covering almost 3,300 retirees and surviving spouses.
The Late Bishop John Yambasu on Central Conference Pensions
Sierra Leone Annual Conference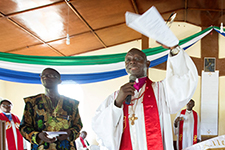 "In my many years as clergy and a missionary in Africa, I have lived to see retired pastors die in abject poverty and without dignity. I have seen many young people shy away from full-time itinerant ministry because it was like intentionally signing-on for a life of permanent poverty. Through the Central Conference Pensions, you and your colleagues restored dignity to ordained ministry. Today in Africa, we celebrate the lives of the many young people who now see ordained ministry as a vocation worth pursuing. And we continue to see retired pastors live healthier and longer—and with dignity."
About Central Conference Pensions
CCP serves as a model of cooperation and commitment within the Church — a successful effort to fund pensions for central conference clergy, who without Church support, would have little or nothing in retirement. Many retirees and surviving spouses continue to express their thanks for the generosity and kindness of the thousands of UMC members who have made pension support in the central conferences possible. Learn more about the history of the CCP.
Thanks to the generosity of donors worldwide, more than $26.4 million has been raised for CCP, with over $10 million in investment earnings already distributed to support central conference pension recipients. Learn about how donations help the CCP.
The funds are administered by Wespath and provide needed retirement resources to the central conferences, giving them time to build their own contribution base for future retirees. CCP-developed pension programs require contributions from active clergy and local churches. These programs use a deferred compensation model (similar to U.S. pension plans) — setting aside and investing money from today's earnings for the participant's future retirement needs.
An ongoing Wespath goal is to help the CCP plans become self-sustaining pension programs. CCP plans are the sole source of retirement support in many central conferences; in others they supplement existing government-funded retirement systems to provide adequate retirement, assuring that all eligible clergy in the Central Conferences have reliable pension support.