History of Central Conference Pensions
A Connectional Success Story
The Central Conference Pensions story demonstrates the power of what is possible when the people of The United Methodist Church work hand-in-hand across the globe. The denomination embraced the challenge and responded generously, working together to provide central conference ministers and their surviving spouses with financial support in retirement.
Decades in the Making
The story begins when General Conference 2000 focused the denomination's attention on the issue of central conference clergy pensions.
2000
General Conference 2000 created a task force of five general secretaries and three bishops charged with launching a pension support plan for the central conferences.
2004
General Conference 2004 amended The Book of Discipline to authorize the effort of the Central Conference Pension Initiative (CCPI)—under the auspices of Wespath Benefits and Investments—to raise the funds needed to fulfill the original charge.
Bishop Ben Chamness led the initial fundraising effort with a goal of $20 million to fund central conference pensions.
Annual conferences donated their annual distribution (Cokesbury) check from the United Methodist Publishing House to support this important effort.
Local churches found ways to make contributions, as did many individuals and UMC general agencies.
2007
The first pilot program was established in Liberia under the direction of Bishop John Innis.
Additional pilot programs were launched in nine African countries from Angola to Zimbabwe.
2009
After reaching its original $20 million fundraising goal in December 2009, an additional $5 million challenge goal was announced to support specific conference needs identified during the pilot projects.
2013
CCPI reached a major milestone when all of the central conferences had a pension plan in place in January 2013.
CCPI achieved its $25 million challenge goal and completed the fundraising effort with a generous donation from the General Board of Discipleship (GBOD) in October 2013—making it possible to shift focus from fundraising to pension development and support.
As a result, "Initiative" was removed from the name, and the program was renamed "Central Conference Pensions" (CCP).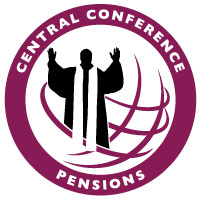 Have Questions?