Chamness, Widow of Bishop Who Championed CCP, Remains Loyal Advocate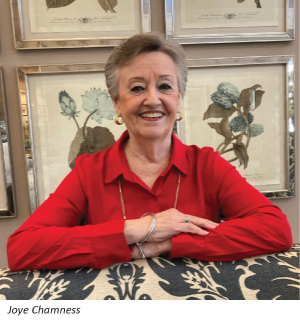 Joye Chamness' generosity is an inspiration.
At the 2007 Central Texas Annual Conference meeting, Joye Chamness celebrated her wedding anniversary to Bishop Ben Chamness by purchasing 47 mosquito nets—one for every year she and the Bishop had been married—for Nothing But Nets, the forerunner to the Imagine No Malaria initiative. Moved by her gift, Annual Conference attendees donated an additional $100,000 to the cause.
The Central Conference Pensions (CCP) are another cause that have benefited from the Chamness' leadership and benevolent stewardship. Bishop Chamness, who died in 2018, led a fundraising campaign that raised $25 million for CCP over ten years. Joye Chamness continues to donate to the program to this day.
"Early on in our married life, Ben, along with the churches that we served, began contributing to the pension fund of, at that time, the Methodist Church," said Joye Chamness, adding, "As a widow, I've experienced the benefits of that fund. Of course, the CCP program has helped those who served the church faithfully, as my husband did, but they didn't receive any benefits from their service. And so I feel like God has blessed me, and I feel that it's important to pass a portion of those gifts onto others."
Ben Chamness rose to a position of prominence in the Church, serving as bishop of the Central Texas Conference from 2000–2008. He was the Board Chair of the United Methodist Board of Pension and Health Benefits (now Wespath Benefits and Investments) from 2004–2008. Throughout his work within the Church, he remained committed to helping others.
"He always served the Lord in whatever way life presented itself," said Joye Chamness, who resides in a Methodist, independent-living retirement community in Bryan, Texas. "He saw the disparities, I think, in the world with the pension program for all [U.S.] clergy as an example. And he wanted to help those suffering to meet life's everyday needs. He wanted to make a difference in the world."
Beginning in 2004, Bishop Chamness led the fundraising effort to raise $20 million for the creation of pension funds for central conference clergy and their surviving spouses who previously had very little or no retirement benefits. The fundraising campaign reached its initial goal in December 2009, and then a supplemental $5 million fundraiser was launched. The campaign achieved its goal of raising $25 million in October 2013.
"It is truly a matter of justice that our central conference ministers have support in retirement when their careers in ministry end," Bishop Chamness was quoted as saying in a press release celebrating the $25 million CCP milestone. "This is a significant effort that now recognizes and rewards a life of service to the Lord."
Joye Chamness believes it is important to continue to donate.
"Such a small amount can buy food or medicine, help their children in their education, just everyday things," said Joye Chamness, adding, "The need will always be there."