Overview of Plan and Transition to Via Benefits on April 1, 2023
The Collins Retiree Health Plan provides eligible retired missionaries who have served Global Ministries a supplementary health plan. The benefit is based on years of eligible credited missionary service and requires 15-20 years of service to be eligible. The Plan was transitioned from Global Ministries to Wespath in August of 2020. Wespath and Global Ministries continue to partner to ensure the Collins Retiree Health Plan will support you through your retirement.
In April 2023, the Collins Retiree Health Plan will change. The current plan, administered by Stirling/90 Degree Benefits, will end on March 31, 2023. Wespath is partnering with Via Benefits Insurance Services to offer a Health Reimbursement Arrangement (HRA) beginning April 1. All eligible retirees will receive HRA funding based on years of service beginning April 1. This change applies to all eligible (current and future) missionary retirees. Wespath and Global Ministries believe this change is in the best interest of our U.S. and international retirees.
U.S. Medicare-Eligible Retirees
Between now and the end of March 2023, Via Benefits is helping retirees who are enrolled in Medicare and receive their routine health care in the U.S., select and enroll in a new Medicare supplement or Medicare Advantage plan effective April 1, 2023.
If you are in this group of individuals, you must enroll in a plan through Via Benefits by March 31, 2023 to qualify for your HRA funding. You will then be able to use your HRA to reimburse yourself for the supplement/Medicare Advantage premiums and any out-of-pocket health expenses, up to your maximum HRA amount.
U.S. Medicare-Eligible Retirees
At your earliest convenience, schedule an appointment with Via Benefits either online at my.viabenefits.com/wespath or call 1-866-249-7785 (8:00 a.m. to 7:00 p.m. Eastern time, Monday through Friday).
International Retirees and Retirees Not Enrolled in Medicare
Retirees not enrolled in Medicare or receiving the majority of their routine care outside of the U.S. do not need to enroll in a supplement or Advantage plan or take action until April 1, when HRA funding will become available.
Resources
Video: Helping You Prepare For Your Upcoming Medicare Enrollment
Recorded January 24, 2023
Introductory Webinar for the Transition to Via Benefits-U.S. Medicare-Eligible Retirees
Recorded October 2022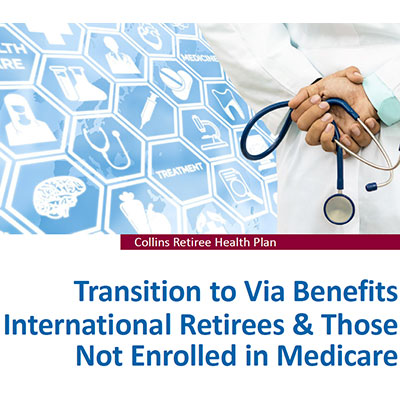 Introductory Information for International Retirees Living Internationally or Not Enrolled in Medicare
Open the PDF