What am I Retiring To?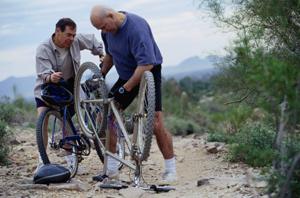 Pastors and other religious professionals contemplating retirement will benefit from asking themselves the simple question: Am I retiring to something, or am I just retiring from something?
For our book Shaping a Life of Significance for Retirement* we interviewed dozens of retired professional women and men who identified a number of opportunities afforded by the move away from full-time work. Retiring to as well as from something, these individuals gave examples of growing spiritually, developing intellectually, engaging in a host of creative pursuits, or caring for a loved one in time of need.
As a practical matter, the "currency of the realm" beyond full-time career pursuit is time; and one of the most important questions we need to answer as we approach this phase of life is how we want to invest this currency. As pastors we may have heard ourselves talk about the stewardship of "time, talent, and treasure"; but during the active years of our ministry, we may have had very little discretion regarding our time. Hospital calls, sermon preparation, weddings, funerals, meetings, and unhappy parishioners may have absorbed every moment we had. Now perhaps for the first time in your adult life you have the luxury and the challenge of deciding how to spend your time. You may be considering questions like these: What will your daily routine be? What kind of balance do you hope to achieve in terms of activities? Which things might be most fulfilling for you to pursue, and which might not be so important?
The answers, of course, are different for every person. In our study we found that some engaged in activities closely related to their career: an obvious example is the pastor who becomes the minister of visitation in retirement. Others invested themselves in a cause or project very different from their ministry—something about which they felt great passion. Most often, people seemed to assemble a kind of "portfolio" of activities, which together answered the question, "What am I retiring to?" Consulting, volunteer work, intellectual pursuits, spiritual growth opportunities, and some leisure activities were often a part of the mix.
The Center for Health realizes that this portfolio is as important to your personal sense of well-being as the content of your financial portfolio is to your long-term financial health. Having a sense of meaning and purpose is essential for well-being. You may find it helpful to reflect on and discuss the following questions as a way to address the deeper question, "To what do I want to give myself in retirement?"
How much structure do you need in your day-to-day life to feel comfortable? This varies widely among individuals and is an important conversation for couples to have. Regular hours for exercise, spiritual disciplines, and volunteer work may be important for some, confining for others. Since this is a lifestyle question, talk about this with those who live with you.
How important is it that you be validated for what you do in retirement? Most of us as pastors receive regular affirmation during our ministry. Consider the ritual of shaking hands at the door on Sunday mornings. Who will affirm you now? Satisfaction in retirement relates to the psychological "stroke salary" you receive for whatever you decide to do.
How important is it that you be paid? A paycheck is a form of validation you may want or need and helps you to feel that what you are doing is important.
Is there some facet of your expertise developed during your ministry that you would like to continue to offer in retirement? Or would you prefer to do something entirely different?
Is there something that you are sufficiently passionate about that you would be willing to invest significant time and energy in it in retirement? If so, what steps do you need to take to make this a reality? What obstacles should you anticipate?
Who are some people you could talk to in order to help you discern your calling in retirement? You might think of a spiritual director, retired person, a counselor, or a close friend. Consider going on a retreat or making a pilgrimage with the intent of envisioning a retirement of personal significance for you.
How might you enter into a period of waiting to hear God's voice? Isaiah 40:27-31 lifts up the importance of "waiting on the Lord." Such waiting brings clarity of purpose and perseverance to see the calling through. Some pastors dedicate a year or more to a discernment process before committing themselves to an arena of service or ministry in retirement. Write a prayer asking God to guide you in your retirement years.
*Shaping a Life of Significance for Retirement by R. Jack Hansen and Jerry P. Haas (Nashville: Upper Room Books, 2010).
©Jerry P. Haas and R. Jack Hansen, 2012
Let Us Know
Our website, programs and offerings are constantly evolving. Let us know what you think is working, what isn't and what new content you would like to see on the site at [email protected]. Thank you for your feedback and continued support of denomination-wide clergy and lay worker health.