November 8-10, 2021
Omni Interlocken Hotel
500 Interlocken Blvd.
Broomfield, Colorado 80021
Leadership – Fellowship – An Event for clergy 39 years old and younger - Personally and Professionally…to sustain a lifetime in ministry!
Get revved up to move mountains!
Plan to attend revitup!...For a Lifetime of Ministry!

Review and refresh your personal portfolio in each of five dimensions of health: Spiritual, Social, Mental-Emotional, Physical and Financial
Gain information to help lead your congregation with mission, ministry and finances
Network with other young clergy from across the denomination
Take home practical ideas, new resources and knowledge
Earn Continuing Education Units (CEU's)!
Event Details
revitup! begins at 1:00 p.m. on Monday, November 8 with an opening Wespath session and keynote address led by the Reverend Dr. Thad Austin, Duke Divinity School.
revitup! ends on Wednesday, November 10 in a unique way this time and we hope you will stay until the end to worship together with clergy who will be arriving to attend the Clergy Benefits Academy! As revitup! ends and the Clergy Benefits Academy begins, we will come together for worship and unite with communion. It will be an awesome opportunity to worship together. revitup! will conclude at 2:30 p.m. on Wednesday, November 10.
revitup! features:
six core classes that everyone attends,
six choice classes from which you will select three to attend,
two classes for clergy spouses! and
free evenings so you can relax, re-connect and refresh with clergy friends or family
From benefits to taxes to finding money for ministry initiatives—you will go home with new insight, direction and lots of practical information to help balance your personal and professional life in ministry.
CEU's: By completing 10 classes at this event, you will earn 1.5 Continuing Education Units (CEU's). If you complete 7-9 classes, you will earn 1 CEU.
Inspiring Music
Enjoy musical direction from Chuck Bell. An avid musician since the age of five when he began studying piano, Chuck holds a degree in Commercial Music from Webster University (St. Louis, Missouri) and has played hundreds of events throughout his 35-year career. While working summer stock, he came to realize how important music is when transitioning from one scene to the next. Knowledge he put to work with The United Methodist Church in 1996, planning and producing traditional and contemporary corporate worship experiences. After serving 18 years with the Church, Chuck is now a full-time worship consultant assisting churches with their Music and Arts Ministry as well as visioning for all worship styles.
The "revitup!" band brings together gifted musicians from across the states to help uplift the spirit and infuse the soul with praise and worship.
The music, along with our guest worship leaders' message provides a motivating and invigorating start to each day.
Registration Information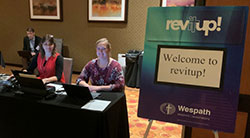 Registration will be available soon.
Early-bird registration fee: $179.00 ($339.00 with spouse). Early-bird registration is open through October 8, 2021.
Your registration fee includes:
Breakfast and lunch on Tuesday and Wednesday
Refreshment breaks
Academy materials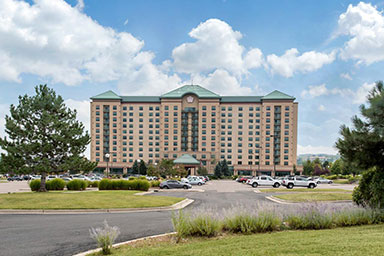 The Omni Interlocken
500 Interlocken Boulevard
Broomfield, Colorado
Wespath has negotiated a special room rate of $142.00 plus tax per night at the host hotel.
Mention that you are attending revitup! to get the discounted rate.
The room rate is available until Friday, October 8, 2021 - based on availability.
Note: Making the hotel reservation and paying for hotel accommodations are the responsibilities of the attendee. Please tell the hotel you are attending revitup! to obtain the negotiated rate.

Wespath-arranged amenities for revitup! guests so you can care for your social, mental / emotional and physical health during your free evenings:
S'mores by the fire pit – Monday Night
Waived resort fee
Complimentary bottles of water (two 12oz bottles)
Unlimited use of 24 hour Fitness Center
Access to golf practice facility
Unlimited high speed internet in sleeping rooms
Complimentary transportation to local restaurants via hotel shuttle (3-mile radius)
Complimentary self-service parking and valet services
In addition, you can also take advantage of a:
10% discount on spa treatments at the Mokara Spa onsite, and
20% discount at the Interlocken Golf Club
Doing Good: OMNI Hotels & Resports Says Goodnight to Hunger
Since launching Say Goodnight to Hunger in June 2016, Omni Hotels & Resorts has made a donation to Feeding America® that helps provide one meal for every completed stay. To date, nearly 16 million meals have been donated to help Feeding America provide nutritious meals for food banks to feed children, families and seniors in communities across the United States. Omni is committed to helping the local communities in which it is located, so this event directly benefits food banks in Colorado. For each completed stay at any participating Omni, regardless of how the reservation is made, Omni donates one meal to a family in need. By attending this event and staying onsite at the host hotel, we are helping to feed families in need. Through this amazing program, Omni hopes to Say Goodnight to Hunger for good.
Broomfield, Colorado
The city of Broomfield is nestled against the backdrop of the Rocky Mountains and offers stunning panoramic views of the mountains and valley. It's a perfect place to get away and put yourself at the top of your list.
Traveling to revitup!
The Omni Interlocken Hotel and Resort, located in Broomfield, Colorado is 30 minutes from the Denver International Airport.
Options from Denver International Airport
Taxi Service: Approximately $70 one way
Shuttle Service: Green Ride Boulder Shuttle. Prices are $34 each way per person. The shuttle operates 4:35 a.m. – 12:35 a.m. Reservations are required.
Scholarships Are Available!
The UMC Initiative to Address Economic Challenges Facing Pastoral Leaders is once again offering a limited number of scholarships for first-time attendees of revitup! These scholarships are provided to strengthen personal and congregational financial stewardship leadership.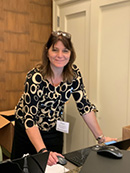 The scholarship opportunity includes:
Refunded registration, and
Two complimentary nights at the host hotel
The interested recipient must agree to and complete the following requirements prior to October 8 and provide confirmation of completion.
If you are interested in receiving a scholarship to attend revitup! and agree to the requirements, indicate "yes" during the registration process. Once the three steps (below) are completed and confirmation is received at Wespath, your registration fee will be refunded and you will be added to the Wespath rooming list at the host hotel so your sleeping rooms will be complimentary. For questions regarding the scholarship, please contact a member of the Wespath meetings and events team.
To receive the scholarship, please complete three steps:
If you have already registered for EY Navigate or Benefits Access – fantastic! You are one step closer to being eligible to receive a scholarship to this event.
Other Financial Assistance
A lot of conferences and United Methodist Foundations offer scholarship opportunities. Please contact your annual conference and/or local U.M. Foundation directly to see if scholarship assistance is provided.
Day Care Information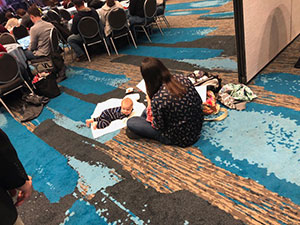 Onsite childcare will be provided by Kid Care Anywhere so you can get away to learn and be inspired and your child(ren) will have a great time, too. Kid Care Anywhere is a licensed, fully-insured, background-checked, uniformed and CPR & First Aid certified team. Hours of service will be during the day while classes are in session. Age-appropriate activities, games, toys and snacks will be provided. The cost for childcare at revitup! is complimentary.
If you wish to bring your family along to revitup!, register your child(ren) to attend the Caring for Kids program during the registration process.
revitup! Course Descriptions
revitup! courses were created based on input from focus groups with your young clergy peers as well as feedback received from the evaluation forms collected at each event. We are called to be good stewards of our five dimensions of well-being: physical, emotional, spiritual, social and financial. This event provides opportunities to consider each area for your overall well-being.
Course information will be available soon.
Special Opportunities
Benefits Consultations
During on-site registration, schedule a consultation with a Wespath staff member. This private session is your opportunity to discuss your personal benefits information: review your account balance, check your beneficiaries, ensure your information is correct and get answers to your specific Wespath benefit questions. A knowledgeable Wespath representative will help you understand your specific benefit situation.
Care and Counseling Session
If you are looking for an opportunity to explore your individual wellness issues or church issues/concerns in a safe, confidential manner, this session—facilitated by a professional counselor—is appropriate for you. Gain perspective from someone outside your conference who can listen, problem-solve and bless you with a fresh outlook on how to resolve your specific issue as well as offer new ideas for living a healthy and balanced life.
Schedule of Events
The schedule will be available soon.
revitup!
For a Lifetime in Ministry
Questions?
Call or e-mail the Wespath Meetings and Events Team:
Margaret Sanders
800-269-2244, extension 2732
[email protected]
Tori Luke
800-269-2244, extension 2720
[email protected]
Renee Edmondson
800-269-2244, extension 4273
[email protected]