November 9-11, 2020
Omni Interlocken Hotel
500 Interlocken Blvd.
Broomfield, Colorado 80021
Leadership – Fellowship – An Event for clergy 39 years old and younger - Personally and Professionally…to sustain a lifetime in ministry!
Get revved up to move mountains!
Plan to attend revitup!...For a Lifetime of Ministry!
Review and refresh your personal portfolio in each of five dimensions of health: Spiritual, Social, Mental-Emotional, Physical and Financial
Gain information to help lead your congregation with mission, ministry and finances
Network with other young clergy from across the denomination
Take home practical ideas, new resources and knowledge
Earn Continuing Education Units (CEU's)!
revitup!— In Their Own Words
Past revitup! attendees provide their thoughts on the event.
Event Details
revitup! begins at 1:00 p.m. on Monday, November 9 with an opening Wespath session and keynote address led by the Reverend Dr. Thad Austin, Duke Divinity School.
revitup! ends on Wednesday, November 11 in a unique way this time and we hope you will stay until the end to worship together with clergy who will be arriving to attend the Clergy Benefits Academy! As revitup! ends and the Clergy Benefits Academy begins, we will come together for worship and unite with communion. It will be an awesome opportunity to worship together. revitup! will conclude at 2:30 p.m. on Wednesday, November 11.
revitup! features:
six core classes that everyone attends,
six choice classes from which you will select three to attend,
two classes for clergy spouses! and
free evenings so you can relax, re-connect and refresh with clergy friends or family
From benefits to taxes to finding money for ministry initiatives—you will go home with new insight, direction and lots of practical information to help balance your personal and professional life in ministry.
CEU's: By completing 10 classes at this event, you will earn 1.5 Continuing Education Units (CEU's). If you complete 7-9 classes, you will earn 1 CEU.
Inspiring Music
Enjoy musical direction from Chuck Bell. An avid musician since the age of five when he began studying piano, Chuck holds a degree in Commercial Music from Webster University (St. Louis, Missouri) and has played hundreds of events throughout his 35-year career. While working summer stock, he came to realize how important music is when transitioning from one scene to the next. Knowledge he put to work with The United Methodist Church in 1996, planning and producing traditional and contemporary corporate worship experiences. After serving 18 years with the Church, Chuck is now a full-time worship consultant assisting churches with their Music and Arts Ministry as well as visioning for all worship styles.
The "revitup!" band brings together gifted musicians from across the states to help uplift the spirit and infuse the soul with praise and worship.
The music, along with our guest worship leaders' message provides a motivating and invigorating start to each day.
Registration Information
Early-bird registration fee: $179.00 ($339.00 with spouse). Early-bird registration is open through October 9, 2020.
Your registration fee includes:
Breakfast and lunch on Tuesday and Wednesday
Refreshment breaks
Academy materials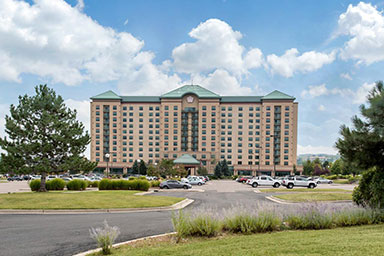 The Omni Interlocken
500 Interlocken Boulevard
Broomfield, Colorado
Wespath has negotiated a special room rate of $142.00 plus tax per night at the host hotel.
Mention that you are attending revitup! to get the discounted rate.
The room rate is available until Friday, October 9, 2020 - based on availability.
Note: Making the hotel reservation and paying for hotel accommodations are the responsibilities of the attendee. Please tell the hotel you are attending revitup! to obtain the negotiated rate.

Wespath-arranged amenities for revitup! guests so you can care for your social, mental / emotional and physical health during your free evenings:
S'mores by the fire pit – Monday Night
Waived resort fee
Complimentary bottles of water (two 12oz bottles)
Unlimited use of 24 hour Fitness Center
Access to golf practice facility
Unlimited high speed internet in sleeping rooms
Complimentary transportation to local restaurants via hotel shuttle (3-mile radius)
Complimentary self-service parking and valet services
In addition, you can also take advantage of a:
10% discount on spa treatments at the Mokara Spa onsite, and
20% discount at the Interlocken Golf Club
Doing Good: OMNI Hotels & Resports Says Goodnight to Hunger
Since launching Say Goodnight to Hunger in June 2016, Omni Hotels & Resorts has made a donation to Feeding America® that helps provide one meal for every completed stay. To date, nearly 16 million meals have been donated to help Feeding America provide nutritious meals for food banks to feed children, families and seniors in communities across the United States. Omni is committed to helping the local communities in which it is located, so this event directly benefits food banks in Colorado. For each completed stay at any participating Omni, regardless of how the reservation is made, Omni donates one meal to a family in need. By attending this event and staying onsite at the host hotel, we are helping to feed families in need. Through this amazing program, Omni hopes to Say Goodnight to Hunger for good.
Broomfield, Colorado
The city of Broomfield is nestled against the backdrop of the Rocky Mountains and offers stunning panoramic views of the mountains and valley. It's a perfect place to get away and put yourself at the top of your list.
Traveling to revitup!
The Omni Interlocken Hotel and Resort, located in Broomfield, Colorado is 30 minutes from the Denver International Airport.
Currently (April, 2020) round-trip flights to Denver are lower than ever! Book your flight now to attend revitup!
Options from Denver International Airport
Taxi Service: Approximately $70 one way
Shuttle Service: Green Ride Boulder Shuttle. Prices are $34 each way per person. The shuttle operates 4:35 a.m. – 12:35 a.m. Reservations are required.
Scholarships Are Available!
The UMC Initiative to Address Economic Challenges Facing Pastoral Leaders is once again offering a limited number of scholarships for first-time attendees of revitup! These scholarships are provided to strengthen personal and congregational financial stewardship leadership.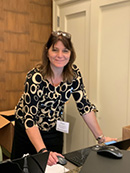 The scholarship opportunity includes:
Refunded registration, and
Two complimentary nights at the host hotel
The interested recipient must agree to and complete the following requirements prior to October 9 and provide confirmation of completion.
If you are interested in receiving a scholarship to attend revitup! and agree to the requirements, indicate "yes" during the registration process. Once the three steps (below) are completed and confirmation is received at Wespath, your registration fee will be refunded and you will be added to the Wespath rooming list at the host hotel so your sleeping rooms will be complimentary. For questions regarding the scholarship, please contact a member of the Wespath meetings and events team.
To receive the scholarship, please complete three steps:
If you have already registered for EY Navigate or Benefits Access – fantastic! You are one step closer to being eligible to receive a scholarship to this event.
Other Financial Assistance
A lot of conferences and United Methodist Foundations offer scholarship opportunities. Please contact your annual conference and/or local U.M. Foundation directly to see if scholarship assistance is provided.
Day Care Information
Onsite childcare will be provided by Kid Care Anywhere so you can get away to learn and be inspired and your child(ren) will have a great time, too. Kid Care Anywhere is a licensed, fully-insured, background-checked, uniformed and CPR & First Aid certified team. Hours of service will be during the day while classes are in session. Age-appropriate activities, games, toys and snacks will be provided. The cost for childcare at revitup! is complimentary.
If you wish to bring your family along to revitup!, register your child(ren) to attend the Caring for Kids program during the registration process.
revitup! Course Descriptions
revitup! courses were created based on input from focus groups with your young clergy peers as well as feedback received from the evaluation forms collected at each event. We are called to be good stewards of our five dimensions of well-being: physical, emotional, spiritual, social and financial. This event provides opportunities to consider each area for your overall well-being.
revitup! Core Courses
revving Toward the Future: Clergy Benefits Review
As a clergy person in The United Methodist Church, you've got benefits! Pension, death, disability, and a wonderful savings and investment plan. This class will touch on the benefits available if and when you need them the most. As you work toward fulfilling the mission of our church, you can work hard with fewer worries knowing you are cared for while you serve.
Instructor: Bob Christophel, Manager of Benefits Education, Wespath Benefits and Investments
Getting Real About Money
Do what you have to do now, so that you can do what you want to do later. Planning for tomorrow starts with knowing where you are today. This workshop will look at your current finances, deal with real time money, developing a financial roadmap (budget), watching what goes through your hands (cash flow), identifying possible leaks, and saving for those short-term goals.
Instructor: Reverend Twanda Prioleau, Christ United Methodist Church in Baltimore City, Baltimore-Washington Conference
Surviving Clergy Taxes
The complexity of the Internal Revenue Code is a well-known fact. While large businesses have a staff of accountants and lawyers to help them with complex tax issues—you do not, even though the taxes imposed on clergy can be nearly as complex. Many clergy just aren't prepared for tax filing and the payment season. This class will help clarify some of the confusion you may be experiencing and answer questions like "Who's my employer?" "Do I really have to pay taxes on my parsonage?" "Why isn't my church withholding enough Federal Income tax?" and "What in the devil is the Self-Employment Tax and why is it costing me so much money?" We'll also go over Clergy Housing Allowance rules. You'll learn some things that may help prevent an audit and some things that may allow you to save money that the IRS would otherwise get. You will definitely learn enough to talk to a tax professional, and begin preparing yourself and your family for the filing of your tax returns and the payment of the taxes you will owe.
Instructor: The Reverend Nate Berneking, Director of Finance & Administrative Ministry for the Missouri Annual Conference
When There's a Will, There's a Way
Life throws us many curves—some expected and some unexpected. What can you expect if something happens? Do you have a durable power of attorney or an advanced directive? Do you know where your important documents are located? Have you considered estate planning and your long-term financial legacy? Are you familiar with trusts and estate tax laws? This class is essential as you consider ways to care and provide for your family's future.
Instructor: The Reverend David Bell, President and Executive Director, United Methodist Foundation of Michigan and a Senior Design Partner, Design Group International
Chill and Refill – Create Life Balance and Avoid Compassion Fatigue
You will learn about the impact of unmanaged stress and boundaries that upset work/life balance and contribute to poor self-care, compassion fatigue and burnout. You will learn how to create healthy boundaries between work and home, as well as tools and strategies to avoid and/or recover from compassion fatigue.
Instructor: Jane Ehrman, M. Ed., Images of Wellness, LLC.
Social Enterprise in the Church Setting
Description to come.
Instructor: The Reverend Dr. Thad Austin, Duke Divinity School
revitup! Choice Courses
Sharing Church Finances with Narrative Budgets
There are many ways to provide budgetary information to those in your congregation, but for some the numbers are hard to understand. This practical session will review the different types of budgets: Zero-based, Line-item and Program, but will introduce a new way to share the financial picture with a Narrative budget. This class will provide a new tool for helping your church members see the great things happening and hopefully inspire increased giving.
Instructor: The Reverend Cary James, Sharp Street Memorial Church, Baltimore, Maryland, Baltimore-Washington Conference
Direct Donor Dollars—"The Big Ask"
The difference between a great idea and a great idea that gets approved is a couple of strong donors. Raising money for special projects gains a lot of momentum after successful one-on-one conversations with possible donors. This workshop will offer practical, successful steps on how to prepare for and then successfully raise support through direct-donor giving. We'll also spend time talking about ways to identify new groups of donors that most pastors overlook.
Instructor: The Reverend Mike Baughman, Community Curator for Union, a new kind of non-profit coffee shop in Dallas, Texas; North Texas Conference
Conflict Transformation: A Skill and an Art
Participants will engage reality-based conflict scenarios and discover multiple ways to address, include, and affirm those involved in disputes and heated conversations. Participants will also develop a clear understanding of the pastor's role as facilitator, mediator, coach, and lightning rod in the midst of conflict.
Instructor: The Reverend Dr. Craig Gilliam, Louisiana Conference
Understanding the Confusing World of Health Care
HRA's, HSA's…what? PPO, HMO, HIPAA…really? This class will decipher the acronyms and help you better understand the benefits and how to use them.
Instructor: Bob Gerlach, HealthFlex Vendor Manager, Wespath Benefits and Investments
Enhancing and Extending Worship Through Technology
What if we took advantage of that incredible little tool that most people have at their fingertips? There are ways to encourage people to use their cell phones during worship to stay engaged and interact with the service. Using smartphones, podcasts, graphics and live-streaming can connect you with your congregation inside and outside of the church walls and some popular mobile apps can help with encouraging spiritual growth. This class will help you think outside of the box when it comes to technology and worship and you can go home with new ideas to try!
Instructor: Reverend Jeremy Steele, Christ UMC, Mobile, Alabama
Securing Benefits in a Season of Change – Wespath Benefits Proposals for General Conference
There are many questions to consider as the denomination prepares for General Conference including benefits questions. This session will highlight the benefits proposals, answer your questions and share how Wespath is preparing to manage the results of this conference.
Instructor: Dale Jones, Managing Director of Church Relations, Wespath Benefits and Investments
Clergy Spouse Courses
Instructor: Julie Anderman, Clergy Spouse, Co-Founder and Executive Director, Artos Retreats
Sabbath Rhythms
Do Sundays sometimes feel like just another workday? Are you looking for ways to claim Sabbath time for yourself? You are not alone! In confidential small groups, re-examine the definition of Sabbath and how you, in your unique role, can carve out restoration in God's presence. A highly interactive Sabbath learning game, with common real-life clergy spouse situations, allows you to discover Sabbath options without having to reveal your own personal circumstances. Connect with other clergy spouses who are also seeking Sabbath rest, just like you!
Healthy Transitions
Looking for healthy habits and strategies to help you navigate a variety of clergy spouse transitions? This session is designed exclusively for you! Small group discussion in a safe, sacred space will prepare your mind and heart for each phase of a transition. Together, you'll solve real-life clergy spouse scenarios about how to say goodbye, deal with the chaos, and plant new roots. Connect with - and learn from - other clergy spouses also preparing for transitions.
Special Opportunities
Benefits Consultations
During on-site registration, schedule a consultation with a Wespath staff member. This private session is your opportunity to discuss your personal benefits information: review your account balance, check your beneficiaries, ensure your information is correct and get answers to your specific Wespath benefit questions. A knowledgeable Wespath representative will help you understand your specific benefit situation.
Care and Counseling Session
If you are looking for an opportunity to explore your individual wellness issues or church issues/concerns in a safe, confidential manner, this session—facilitated by a professional counselor—is appropriate for you. Gain perspective from someone outside your conference who can listen, problem-solve and bless you with a fresh outlook on how to resolve your specific issue as well as offer new ideas for living a healthy and balanced life.
revitup!
For a Lifetime in Ministry
Questions?
Call or e-mail the Wespath Meetings and Events Team:
Margaret Sanders
800-269-2244, extension 2732
[email protected]
Tori Luke
800-269-2244, extension 2720
[email protected]
Renee Edmondson
800-269-2244, extension 4273
[email protected]