Understanding Your Benefits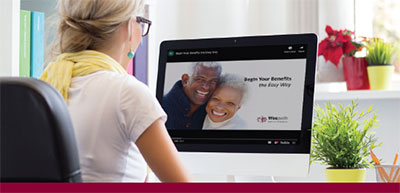 To create and implement effective plans for the future, you should understand your available benefits and plan options. That's why participant education is one of Wespath's primary goals.
Participant Account Website
Participants can manage retirement savings and investments online at Benefits Access (benefitsaccess.org). Wespath just made access easier and more secure. You no longer need to receive a PIN by mail to register for access to the site.
Get registered today and view your investment performance and activity, plan contributions, account balances, benefit projections, and more. Plus, the site allows you to make immediate updates to personal information, beneficiaries and bank details, and apply online for benefits.
Go to benefitsaccess.org and select "New User Registration" to get started. What you learn on Benefits Access just might save your retirement.
Videos
Wespath offers videos on a variety of subjects related to your benefits. Learn about the benefits of, and process for, applying online for retirement distributions, information about taxation related to moving expense payments, and more online at wespath.org/video.
Webinars
Wespath offers regular webinars on subjects such as retirement planning, benefits and well-being. To view past webinars, visit wespath.org/retirement-videos and wespath.org/health-videos.
You can also view webinar content through our partnership with EY Financial Planning Services. Upcoming webinars include:
7 Things to Do with Extra Money—January 17—Using tax refunds or other windfalls to fund emergency savings, pay off debt, invest for retirement or meet other goals.
Achieving Financial Success: Why You Might Be Your Own Worst Enemy—February 13 and 21—Developing a more positive and productive relationship with money.
12 Investing Mistakes to Avoid—March 13 and 21—Timing the market and under-diversifying are among a dozen errors that pose the greatest threat to your ability to achieve goals.
Visit wespath.eyfpc.com to register or to view previously recorded webinar content. To register by phone, call 1-800-360-2539.
From the January 2019 issue of Hark!