Coping with Appointment Changes and Relocation Stress
Moving and starting a new job are significant life-changing events. United Methodist clergy frequently face both having to pack their belongings and move with their family to a new city to start working with a new congregation. These significant upheavals create stress that needs to be addressed and managed.
These times of change can be stressful for clergy and their families. In fact, "appointment changes and relocation" was one of the 13 key factors identified by the Church Systems Task Force (CSTF) report as being highly correlated with health. Clergy were interviewed as part of the information gathering process, and they reported that:
On average, they change appointments every three to four years; and
More than half (59%) have changed appointments at least twice, and more than one-quarter (28%) have changed three or more times.
How Appointment Changes and Relocation Influence Clergy Health
Changing appointments creates both vocational and personal stressors. Clergy may have their own concerns, as well as the need to alleviate the fears of family members about the new appointment.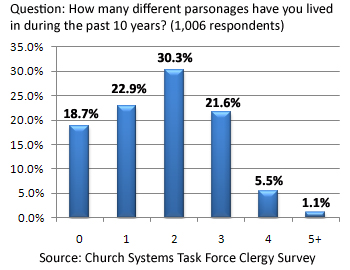 Work-related stressors include:
Leaving coworkers and friends
Packing and moving personal work items and materials
Leaving church projects unfinished
Adapting to a new congregation
Learning how the new congregation functions
Creating new work relationships
Creating new friendships
Personal/family stressors include:
Telling your spouse, children and family about the move
Moving away from friends and neighbors
Packing family belongings
Relocating to a new home
Possibly relocating to a part of the country that has a significantly different climate and culture
Finding new schools and sport/recreation options for children
Helping your spouse with the transition, including finding a new job
Question: How difficult was it for you and your family to adjust when you moved?
Level of Difficulty
Difficult for you
(Sample size = 757)
Difficult for family members
(Sample size = 657)
10 Extremely difficult
2.5%
7.2%
9
3.4%
10.8%
8
7.1%
13.7%
7
11.4%
17.8%
6
8.7%
8.1%
5
9.8%
9.0%
4
5.5%
7.9%
3
15.5%
10.4%
2
17.6%
7.3%
1
10.2%
3.8%
0 No difficulty
8.3%
4.0%
Source: Church Systems Task Force Clergy Survey
Coping with Appointment Changes and Relocation Stress
While it may not be feasible to avoid the stress related to appointment changes and relocation, there are ways you can make the transition easier, such as:
Learning from prior experiences. If you have changed appointments previously, think back to that experience; make a list of things you would have done differently and things that you would do the same. Use the list to help guide your actions and interactions during your latest appointment change.
Asking for information. Talk with clergy you respect about leading a new congregation. Ask the district superintendent about the community's and congregation's strengths and where improvements could be made; then take the time to do your own assessment of your new community. See how your observations align with the information you've received.
Providing support and be supportive. Rely on your family and friends for strength, and provide strength and support to them.
Being optimistic. Positive thinking can go a long way to ease the bumpy parts in a difficult transition.
You can also improve the personal transition for you and your family by:
Bringing up the topic immediately. Don't delay in telling your spouse and children about the relocation. It is important for them to have as much time as possible to come to grips with the transition.
Allowing time for closure. Give yourself and your family plenty of opportunities to gain a sense of closure with friends and neighbors. And remember: although you are moving away, "goodbye" does not mean "I will never see or talk to you again." In this age of instant communication, friends are never more than an e-mail, phone call, text or tweet away.
Inviting input. Give your spouse and children the opportunity to take part in making decisions about the move. Listen to their ideas and allow them to express their feelings.
Being positive. Set a good example by focusing on the positive aspects of the move. When applicable, let them know the good things the relocation will mean for them (e.g., could be a bigger yard, a fun neighborhood or a better school).
Seeking assistance when necessary. Speak to your spiritual advisor, a counselor, mentor or social worker if you are having a tough time. If your family is having difficulty coming to terms with the move, seek the advice and guidance of a family therapist.
Utilizing employee assistance resources. Many health plans provide resources to help people manage life events such as moving, often through an employee assistance program (EAP).
Resources
The Staff-Parish Relations Committee (SPRC) and/or the Pastor-Parish Relations Committee (PPRC) can be great resources for clergy and their families.
Let Us Know
Our website, programs and offerings are constantly evolving. Let us know what you think is working, what isn't and what new content you would like to see on the site at [email protected]. Thank you for your feedback and continued support of denomination-wide clergy and lay worker health