Spotlight Topic—Chronic Stressors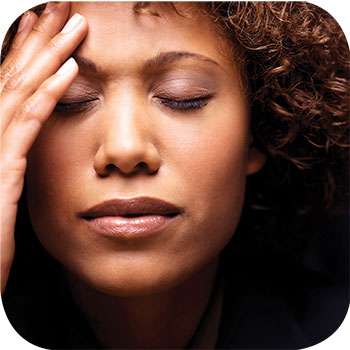 When we feel stress—whether we realize it or not—our whole body reacts. The acute "fight or flight" response stimulates certain chemicals in our body to help us handle our stressors. Short-term stressors give the immune system a boost, but chronic stress can actually suppress the immune system. That in turn, can turn into chronic low-grade inflammation which by itself may have long-term negative impacts on health. These include risks for diabetes, ulcers, coronary artery disease, an indirect link to cancer, and mental and emotional conditions like depression and anxiety. Chronic stressors are often beyond people's control and persist when a person cannot see a way out of a miserable situation.
The COVID-19 pandemic has now stretched more than seven months and it's unclear when it may end. In response, many of us have changed how we work, see family and friends, worship, and more. COVID-19, racial, political, economic, denominational and other challenges at this time can all contribute to ongoing heightened stress. We must be proactive in finding ways to manage our stress and find time for selfcare. Below are some tools to actively address added stress and deter potential chronic issues. And, for a personal success story of overcoming stress for health, read Rev. Arlene Christopherson's article also in this issue:
Intentional Breathing—take slow deep breaths (total of 10 seconds for inhale + exhale together) and focus on a positive thought, a song or a peaceful place.
Social support—in-person gatherings may be canceled, but love, support, and a listening ear are not. Find ways to connect with your people.
Prioritize healthy habits—eat well, drink water, exercise, get 7-9 hours of sleep, get outside in sunshine and green space. Even one of these can help make a positive shift, and tackling a few can make a noticeable difference.
Reach out for help when you need it. Sometimes stress is heavy and we need more than prevention—we need someone to help us reset and find our path forward. Accessing emotional health counseling virtually is safe and can develop the same positive relationships and satisfaction as in-person therapy. No matter where you are in the process of dealing with your stress, a professional can help you sort through it.
These are just some options. The Northern Illinois Conference cabinet members are doing a well-being pilot with HeartMath led by Woody Bedell that focuses on achieving a state of calm through breathing and positive thinking. For more information, visit heartmath.com. There are also some great resources at Wespath.org. Whatever works best for you is a good strategy. 2020 has proven to be challenging in many ways. Proactively managing that stress together with spiritual practices may help illuminate the opportunities and unexpected moments of grace in this time.
Sources:
https://psycnet.apa.org/fulltext/2020-39749-003.html
https://sphweb.bumc.bu.edu/otlt/MPH-Modules/PH/Stress-Resilience/Stress-Resilience_print.html
https://www.sciencedirect.com/science/article/abs/pii/S0306453018306954?via%3Dihub
https://www.ncbi.nlm.nih.gov/pmc/articles/PMC3341916/