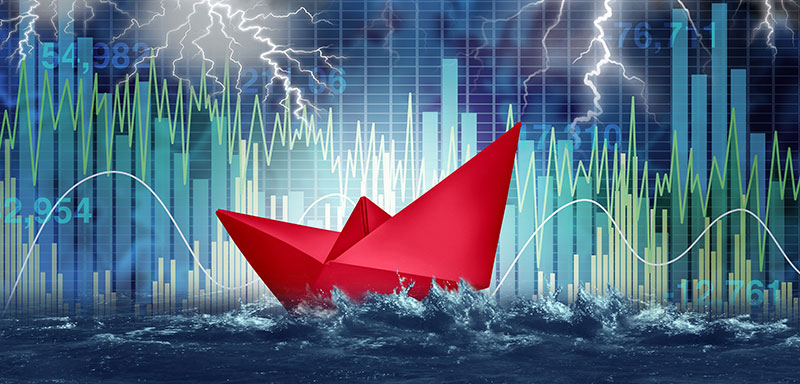 What in the World is Going on with Financial Markets?
It's no secret markets have had a rough go in 2022 so far. It seems you can't escape the inflation chatter (which, if you haven't heard, inflation is at a generational high), consumer sentiment is looking rather gloomy, and consumer spending appears to be slowing. It's easy to get wrapped up in the pessimism of it all.
That said, when you look at stock market performance over time, it tells a story of normal and consistent annual market declines. We want to share this in the hopes of alleviating some of the uncertainty and anxiety you may be feeling. For example, the chart below shows the S&P 500 Index—an index of the top 500 stocks in the U.S.
The grey bars represent the market performance for the full calendar year. The red dots show, for any given year, the total amount that the market dropped during the year. For example, at one point in 2020, the S&P 500 dropped 34%—however, the total return for the year was actually a positive 16%!
Over the past 42 years, the average return for the S&P 500 was 13%. However, on average, at some point during the year, there was a decline of 14%.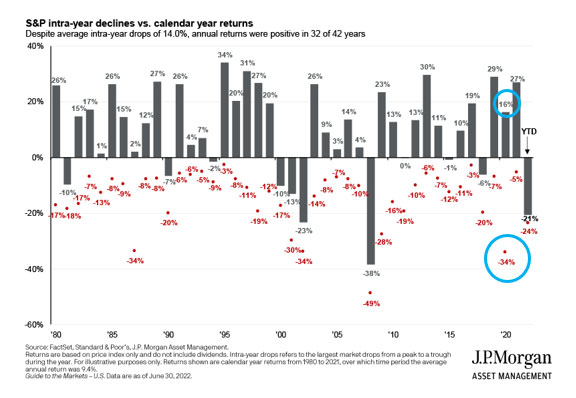 This is an important reminder that market declines are completely normal, and in order to achieve overall positive, long-term performance, an investor needs to assume some level of short-term risk. For a full review of stock and bond market performance, you can view our second quarter webinar here.
Recession Fears
In addition, you may have heard rumblings of a recession, which could potentially further complicate market performance. In our latest webinar, Chief Investment Officer Dave Zellner explains that even though we may see the traditional indicator of a recession (two back-to-back quarters of negative U.S. growth, second quarter growth will be released at the end of July), the current labor market is still strong, with extremely positive employment data not typically seen in major recessions. The over-abundance of jobs can be attributed to many individuals voluntarily not returning to work following the pandemic. While we can't know what's to come, Dave reviews these factors and others, noting evidence indicating markets may have reached their bottom. Dave's full economic update is now available here.
Resources Available to You
We have plenty of materials available to learn more about the markets and resulting fund performance. On a monthly basis, we post our Monthly Investment Report and accompanying two-minute Markets at a Glance video to the Wespath website.
In addition, Joe Halwax, Managing Director of Institutional Investment Services recently released Markets in Review—What Happened in the First Half of 2022, a comprehensive blog on market performance, as well as a six-minute video reviewing the first half of 2022.
If you'd like help with budgeting, saving, planning and more, you can always speak with EY Financial Planning Services, available business days from 8:00 a.m. to 7:00 p.m., Central time at 1-800-360-2539 or through the EY Navigate website at wespath.eynavigate.com.