"I've Got a Lot on My Plate": A Meal-Prep Guide for the Busy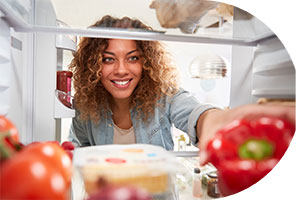 Summary
Meal prepping involves preparing food ahead of time so you can enjoy ready-to-eat meals later. This can save you time in the kitchen.
There is not one way to meal prep. There are multiple types of meal prepping, including make-ahead meals and individually portioned meals, so it can accommodate various needs and lifestyles.
Using your tried-and-true recipes can help meal prepping get off to a good start.
Most of us are familiar with the idiom, "I've got a lot on my plate," and have probably used it at some point in our lives. Unfortunately, our jam-packed schedules often leave little room for things we want to do, or worse, should do, for our health and well-being, such as cooking our own meals.
The good news is, having "a lot of on your plate" doesn't mean having to sacrifice a balanced food plate. Meal prepping, which involves preparing food ahead of time so you can enjoy ready-to-eat meals later, can save you time in the kitchen while still allowing you to maintain a healthy diet. Carolyn Hodges, a registered dietitian nutritionist, offered a step-by-step beginner's guide to meal-prep on the EatingWell website. What follows are tips from EatingWell, with some advice from a WeightWatchers blog post about meal prep sprinkled in:
Step 1: Determine the Best Prep Method for You
Make-ahead meals: Cook complete meals in advance to be reheated at mealtimes, like a pot of soup for lunch or dinner.
Batch cooking/freezing: Prepare multiple batches of a recipe (such as doubling a chili recipe) to portion out and freeze meals for weeks to come.
Individually portioned meals: If you have specific health goals or require grab-and-go meals, consider portioning foods into individual servings. Think overnight oats or Mason jar salads.
Ready-to-cook ingredients: If you prefer to cook meals right before serving, prep the ingredients ahead of time. For instance, chop peppers in advance for chili.
Step 2: Plan Ahead
Write your menu: When planning your menu, rely on some tried-and-true recipes that you've cooked before, with one or two new recipes thrown in.
Pick your favorite recipe: Sharon Palmer, a registered dietitian nutritionist, suggested kicking off meal prepping by making a large batch of your favorite meal. For instance, if you like chicken tacos, you could eat soft-shell tacos one day and taco salads the next day.
Step 3: Shop Smart
Stock up on staples: Stock your pantry with reliable goods, such as dried herbs and shelf-stable whole grains like quinoa. Canned beans, broth, eggs, precooked chicken sausage and a few freezer-friendly foods can transform into a meal in minutes.
Build a better shopping list: Navigate the grocery store quickly with a list organized by department. Keep a running inventory of foods you frequently use during weekly prep, like olive oil or brown rice, and add these to your list when necessary.
Consider shopping online: To save even more time, registered dietitian Dana Angelo White suggested considering a grocery delivery service. Curbside pickup can also save time.
Step 4: Store and Enjoy
Invest in meal-prep containers: If going the plastic route, look for an identification code of either 1, 2, 4, or 5 on the bottom of the container, which are the safest for food according to the American Academy of Pediatrics. Glass containers are safe to microwave and pour hot food into.
Be mindful of storage life: If stored in airtight containers, cut vegetables like onions will keep for two to three days in the refrigerator. Heartier vegetables, like carrots, will keep for at least four days. Greens that have been washed and dried can stay fresh for up to a week. Cooked vegetables, grains and animal-based proteins should be consumed within three to four days.
Other Helpful Tips
Give yourself reminders: Keep your reusable lunch bag in a place where you won't forget to grab it, such as near your laptop, keys or wallet. Leave yourself a note to pull the pre-packed items out of the refrigerator.
Want to get started on your meal-prep journey but don't know where to start? Try WeightWatcher's quick and healthy meal-prep recipe for spaghetti with grilled eggplant and tomato sauce.
WeightWatchers (WW) 101
Who: If you are a HealthFlex participant, you, your spouse and your dependents age 18 or older are eligible for a WeightWatchers discount.
Cost: $8.48 per month for the digital plan; $19.11 per month for the digital + workshops plan. That is more than 50% off the retail price.
Learn more: Visit the WeightWatchers page on the Wespath website.