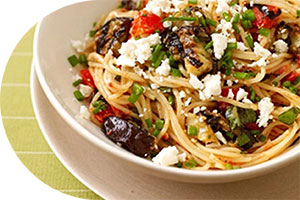 Recipe: Spaghetti with Grilled Eggplant and Tomato Sauce
"When I first stumbled upon this recipe, it struck me as a healthy twist on the classic spaghetti and meatballs that I adored as a child. That's when I knew I absolutely had to try it. The versatility of the meal is why it appealed to me so much—it can cater to lots of different dietary needs and preferences. It's a great option for families, and for those with plant-based or low-carb diets. Plus, the angel hair pasta can be swapped with heart of palm or zucchini noodles."
- Aneta Zalinska, Associate Content Manager at Wespath Benefits and Investments
Ingredients
1 medium uncooked eggplant, baby-variety, sliced into 1/3- to 1/2-inch-thick rounds
1 medium sweet red pepper cut into 8 strips
Olive oil cooking spray
¾ tsp table salt
1 clove minced garlic
2 large, coarsely chopped fresh tomatoes
¼ tsp crushed red pepper flakes
¼ tsp black pepper
⅛ tsp basil
2 tbsp, fresh, minced chives
½ cup fat free reduced sodium vegetable broth
8 oz angel hair pasta, cooked according to package directions, drained
4 oz crumbled feta cheese
Instructions
Preheat grill to medium.*
Coat vegetables with cooking spray and season with 1/2 teaspoon of salt. Place eggplant slices and pepper strips in a grill basket (or place vegetables on a sheet of heavy duty aluminum foil with holes poked in it to allow smoke through). Place on grill and cook until lightly browned and tender, about 2 to 3 minutes per side. Remove from heat and cool to room temperature. Cut vegetables into bite-size pieces; set aside.
Coat a large nonstick skillet with cooking spray; heat over low-medium heat. Add garlic and cook, stirring, for 1 minute. Add tomatoes and cook until slightly pulpy, about 1 minute more. Stir in vegetables, remaining 1/4 teaspoon of salt, red pepper flakes, black pepper, basil, chives and broth; increase heat to medium-high. Cook until broth is slightly reduced and mixture has a sauce consistency, about 2 to 3 minutes. Add pasta and toss to coat. Stir in cheese just before serving.
Yields about 1 1/2 cups per serving.
Notes
* To roast the vegetables instead of grilling, preheat the oven to 425ºF. Coat a baking sheet with cooking spray. Place vegetables on prepared baking sheet and coat with cooking spray; season with 1/2 teaspoon of salt. Roast, until lightly browned, about 20 minutes. Remove from oven and cool to room temperature.
WeightWatchers (WW) 101
Who: If you are a HealthFlex participant, you, your spouse and your dependents age 18 or older are eligible for a WeightWatchers discount.
Cost: $8.48 per month for the digital plan; $19.11 per month for the digital + workshops plan. That is more than 50% off the retail price.
Learn more: Visit the WeightWatchers page on the Wespath website.