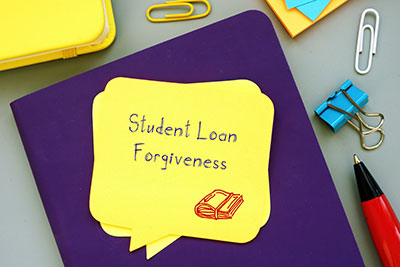 Have Student Loans? Learn Whether They Can Be Forgiven
For clergy members and other employees of not-for-profit organizations engaged in faith-based work, recent changes to the Public Service Loan Forgiveness (PSLF) Program might remind them of the Cinderella fairytale. But the opportunity only lasts "until the stroke of midnight," or in this case until October 31 to take advantage of the limited-time waiver.
While initially clergy and others were excluded from the PSLF Program because "religious instruction, worship services, or any form of proselytizing" didn't count toward the full-time work requirement, the U.S. Department of Education, which administers the program, reversed the exclusion effective July 1, 2021. The Department of Education then issued a limited waiver of the "sometimes-onerous provisions for PSLF qualification," according to NerdWallet.com.
Wespath is hosting a no-cost PSLF Program webinar that will provide more insight into the program. The webinar will take place on May 9 at 2:00 p.m., Central time, and again on May 11 at 12:30 p.m., Central time. Registration is open for both the May 9 and May 11 sessions.
The webinars will be led by Scott Filter, a senior advisor in the Office of Students and Young Consumers at the U.S. Consumer Financial Protection Bureau. He focuses on student debt and higher education policy.
To qualify for the PSLF Program, you need to:
Work full time for a qualifying employer (local churches, annual conferences and church-associated organizations can be qualifying employers)
Have Direct Loans, the term for the Department of Education's federal student loans (or consolidate other federal student loans into a Direct Loan)
Make 10 years' worth of payments, which comes to 120 qualifying monthly payments
Thanks to the limited waiver, payments made on federal loans under programs that previously did not qualify, such as the Federal Family Education Loan (FFEL) or Perkins loans; payments made under any repayment plan type; and payments that were late or for less than the amount due will retroactively count toward the PSLF Program, if you consolidate those other loans into Direct Loans by October 31. (To be eligible, you may need to set up a consolidated Direct Loan with income-driven repayments.) You must also submit a PSLF Form to FedLoan Servicing by that date.
For additional information, we encourage you to visit the following webpages: