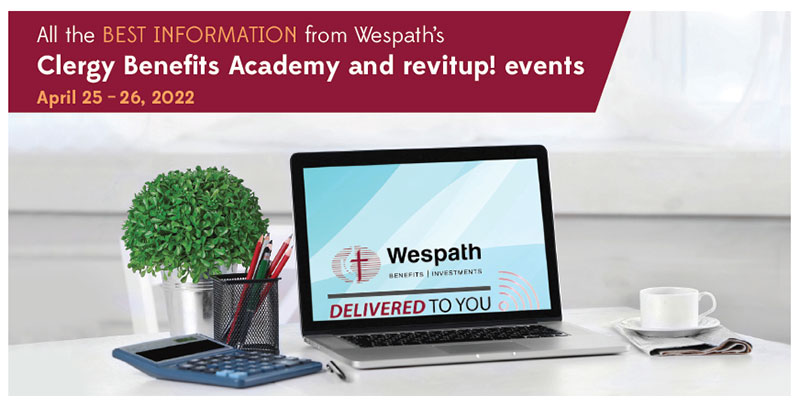 From the comfort of your home space
or the convenience of your workplace —
All active clergy members of The United Methodist Church —
Plan to attend Delivered to You, an online event!
During Delivered to You, you will:
Get tips to manage your Mental-Emotional, Financial, Spiritual, Social and Physical health and the resources / services available to you
Learn more about all of your benefits plans – savings, retirement, welfare
See a demo of Benefits Access – your portal to see all your benefits in one place
Be inspired to save more, plan differently and care for your health and well-being
Receive an exciting Event Care Kit full of great things - delivered right to your door - so you can participate fully and enjoy this event more
Connect virtually, invest in yourself and enjoy this quick-paced event hosted by Wespath Benefits and Investments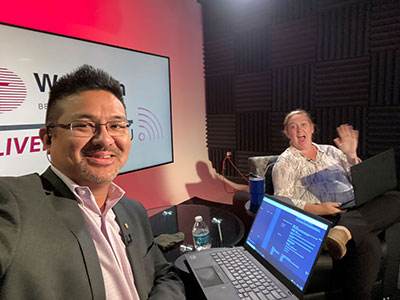 Event Information
Wespath Benefits and Investments – Delivered to You takes place in the afternoon for two days, April 25-26, 2022. The event will begin at 1:00 p.m. and end at 4:30 p.m. CST on both days. On April 26, there will be optional breakout opportunities beginning at 11:30 a.m. CST.
The virtual link to attend will be sent to you within one week of the event from Wespath Events.
Details and Registration
The registration fee is just $59.00 and includes the event Care Package that will be shipped to you in advance.
The deadline for registration is Friday, April 8, 2022. This deadline ensures that you will receive the Care Package and all of the materials to participate fully and enjoy the event.
Delivered to You Promotional Video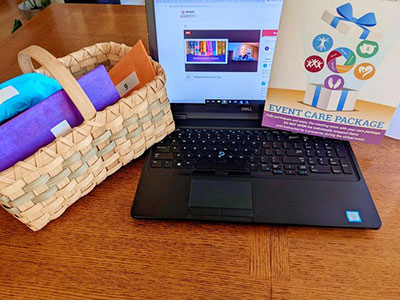 Event Care Package
Each registered participant will receive an event Care Package in the mail (a few days prior to the event). The package will contain materials that will be individually wrapped and should not be opened until instructed by a presenter during the virtual event. The Care Package will also provide an agenda and more information about the event.
Best News for this Virtual Event!
Enjoy a great night's sleep from your own bed – no uncomfortable hotel pillows or scratchy blankets!
You can wear shorts and a t-shirt or pajamas and we won't know! It's camera-free!
You are a laptop away and travel times are light!
The environment is happy because this event is carbon-neutral 😊!
How to View and Participate
You will receive the link to attend within one week of the event.
You can "attend" by smartphone or computer—so you can participate from anywhere! A laptop computer is recommended for the best experience (we do not recommend participating via a tablet).
No web camera is required for this event. You will be able to interact via chat and polling opportunities.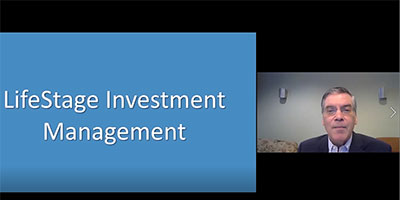 Special Offerings / Opportunities
Benefits Consultations—Schedule a consultation with a Wespath staff member. This private session is your opportunity to discuss your own account balance and pension projection. A knowledgeable Wespath representative will help you understand your specific benefit situation.
Pastoral Counseling / Spiritual Direction—If you are looking for an opportunity to explore your individual wellness issues in a safe, confidential manner, this session—facilitated by a professional counselor—is appropriate for you. Gain perspective from someone outside your conference who can listen, problem-solve and bless you with a fresh outlook on how to resolve your specific issue as well as offer new ideas for living a healthy and balanced life.
Continuing Education Units (CEU's) awarded for attending this event. This certificate will provided to you via email after the completion of the event.
Virgin Pulse Points awarded for attending this event. Pulse points will be made available to you – if you are interested in receiving these bonus points – after the completion of the event.
Event Agenda
Monday, April 25

Delivered to You: Day 1

Monday, April 25: 1:00 p.m. – 4:30 p.m. central

Your Spiritual Health
Delivered to You Opening Session
Your Emotional Health

Clergy Well-Being Survey Results
Emotional Health Check-in

Your Financial Health

Benefits Plans Highlight
Defined Benefit / Defined Contribution Plans
Ministerial Pension Plan (MPP)
Clergy Retirement Security Program (CRSP)
LifeStage Retirement Income Opportunity
United Methodist Personal Investment Plan (UMPIP)
Comprehensive Protection Plan (CPP)
Tips and Tricks for Using Benefits Access—Your Benefits Portal

Your Physical Health – Focusing on Strength
Your Social Health – Benefits Trivia!
Tuesday, April 26

Delivered to You: Day 2

Tuesday, April 26

Breakout Opportunities: 11:00 a.m. – 11:45 a.m. CDT ; Breakouts sessions repeat 12:00 - 12:45 p.m. CDT

Breakout Sessions



Saving Grace Sampler: Personal Money Management from a Wesleyan Perspective
Join this session to learn about and experience Saving Grace: A Guide to Financial Well-Being, a small group curriculum that provides the text and tools you need to address the topics of saving, earning, giving, spending, and debt, along with helpful strategies for achieving a sustainable financial life.Leaders: Bonnie Marden and Cynthia Dopke


GC Delays, GMC Launch: What's the Impact?
Learn about, discuss, and ask questions about clergy benefits proposals going to the thrice-postponed General Conference, and what the delays mean for clergy, congregations, and the denomination.
Leader: Dale Jones


First Aid for Mental Health—Continuing the Conversation
If you attended or watched the recordings of Sessions 1 & 2 of Wespath's First Aid for Mental Health series, and want to discuss the training with others, join us for a facilitated conversation about how we can create a more empathetic and less judgmental environment with the UMC.? Have you shared the recordings with others or started a discussion group at your church? Been intentional about practicing your active listening skills? Let's come together to talk about how we can continue the conversation and make an impact on the UMC culture surrounding mental health.
Facilitators: Kelly Wittich and Jodi Benacka


Sustainability, ESG and Impact, Oh My! How Your Retirement Savings Influence Positive Action
Did you know that the assets in your retirement portfolio help make a positive impact on issues like affordable housing, climate change and human rights? In this session, Ryan McQueeney – an analyst from our Sustainable Investment Stewardship team – breaks down concepts like "sustainable investing" and "ESG" to explain how Wespath aligns its investment work with UMC values and long-term returns.
Leader: Ryan McQueeney, Analyst, Sustainable Investment Stewardship


When the Markets Fluctuate, Wespath is Calm Investment Q&A Open Forum
Have you got investment questions you have always wanted to ask? Three members of our investment team will be available to help answer the things you always wanted to know about. What is bitcoin? Crypto currency? What is Wespath's investment approach? Should I self-direct my investments or use LifeStage? Come join this interactive and engaging session and bring your questions.
Facilitators: Frank Holsteen, Fred Huang and Nizida Arriaga


1:00 p.m. – 4:30 p.m. central

Your Spiritual Health

Your Financial Health

Your Physical Health


Understanding the World of Healthcare
Here's to a Healthier You

Your Social Health

Closing Benediction