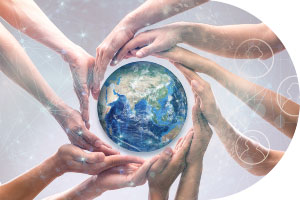 Earth Day: Celebrate with 3 Sustainability Tips!
On April 22, the world will celebrate the 52nd Earth Day, an annual celebration focused on preserving and protecting our planet.
This year's theme is "Invest in Our Planet"—a call to action which strongly resonates with Wespath and our Dimensions readers. That's because, as a participant in Wespath's benefits plans, you're already investing for our planet!
Wespath's sustainable investment approach considers the impact of environmental, social and governance, or "ESG," factors as they relate to investment management. We also believe that investors must create and support a sustainable global economy—one that promotes long-term prosperity for all, social cohesion and, of particular note to our celebration of Earth Day, environmental health. We do this in a variety of ways:
We joined other agencies of The United Methodist Church in committing to net-zero emissions across investments, operations, facilities and ministry by 2050.
We directly invest in low-carbon solutions and have designed investment strategies focused on companies best prepared for a lower-carbon future.
Through the investor initiative Climate Action 100+, we lead engagements with oil and gas companies—including Chevron and Occidental Petroleum—urging them to align their businesses with climate best practices.
We participate in investor coalitions like the Net-Zero Asset Owner Alliance, which support the rapid decarbonization called for by the Intergovernmental Panel on Climate Change.
These strategies are implemented throughout the retirement funds in which Wespath participants invest.
Other ideas to "Invest in Our Planet" more locally in celebration of Earth Day:
Plant a tree: Trees filter the air and can stave off the effects of climate change. Trees also reverse the impacts of land degradation and provide food, energy and income to communities. You can plant a tree at home or donate to a program like The Canopy Project, where just $1 can help reforestation in disadvantaged communities around the world.
Make your next meal plant-based: Animal agriculture is one of the largest contributors to climate change. Shifting your diet to include more plant-based meals can help minimize environmental impacts. Try our Healthy Recipe for Buffalo Cauliflower Dip for a tasty Meatless Monday snack!
Carry reusable shopping bags: Keeping reusable shopping bags handy is a great way to keep plastic out of landfills. It's easy to forget them, so make a plan. Store bags somewhere you'll be reminded to use them—in your car, near the front door or maybe next to your grocery list.