Automatic Features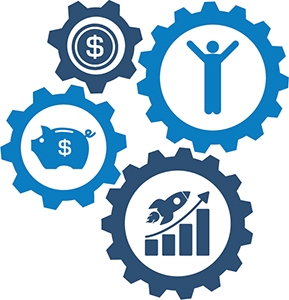 The United Methodist Personal Investment Plan (UMPIP) was updated in 2018 with valuable features to support your retirement savings efforts. These features are designed to jump start or propel forward your savings efforts by automating your plan enrollment and savings increases. Our goal, as always, is to help prepare you for your financial future.
Automatic Enrollment: Your plan sponsor may elect to automatically enroll you to set-aside a specified percentage of your pay for before-tax contributions to UMPIP unless you elect otherwise. You can increase, change or stop your personal contributions at any time by submitting a Contribution Election form.
Automatic Contribution Escalation: Your plan sponsor may elect to increase your before-tax contribution by a specified percentage up to a maximum percentage (e.g., 1% increase per year up to 10%) during a specific month each year. You can elect to stop automatic contribution escalation by submitting a Contribution Election form.
Your plan sponsor will send you an Initial Automatic Enrollment Notice in November or December if your plan will offer one or both of these new features. Be sure to read it for important information about these savings opportunities.
Learn more: Automatic Features Participant FAQs
Increase or change your retirement savings elections: Contribution Election form or Contribution Election form for Alaska & Pacific Northwest
Questions about UMPIP automatic features? Contact Wespath at 1-800-851-2201.