Seeing Your Financial Future: How Much Social Security Have You Earned?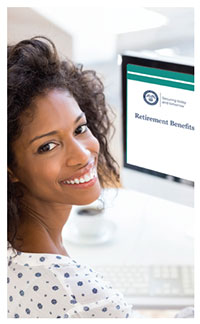 Long before you retire, you should develop a plan for reaching your post-career financial goals. Developing a comprehensive plan requires knowing what benefits you will have and what you can do to ensure your retirement income will last your lifetime and be sufficient to cover your needs.
Most retirees have defined contribution plan accounts [e.g., UMPIP, Horizon, CRSP DC and or prior employer 401(k)s] and/or accrued defined benefit plan benefits (e.g., CRSP DB). You may have projected your retirement income based on those benefits. But your retirement picture isn't complete unless you also know your projected Social Security benefit.
Many retirees' largest source of retirement income is Social Security. It's important to review your Social Security income history to ensure it's accurate. It is used to determine your benefits, and any omissions could cost you tens of thousands of dollars in retirement or other benefits.
Where Can You Find Your Income History and Projected Benefits?
The Social Security Administration issues an annual statement to those who have accrued benefits. If you're over age 60 and haven't set up an online account, that statement is mailed; everyone else must go to ssa.gov/myaccount. After signing in or setting up an account, review your records. You can confirm your earnings using your W-2s and tax returns. Guidance for fixing errors is available at ssa.gov/pubs/EN-05-10081.pdf.