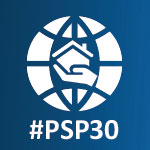 30 Years of Collaboration, Connection
For three decades, our Positive Social Purpose (PSP) Lending Program has been a bedrock of our investment activities, with your retirement investments positively impacting the world while helping shape your #PSP30 own financial future.
Collaboration is at the heart of our success. The program is supported by partnerships with government programs, financial institutions that help us find quality investment opportunities and mission-focused organizations that provide valuable services to the communities we invest in. This collaboration allows us to support populations who need it most—from low-income families and veterans, to individuals with disabilities, at-risk youth, seniors and the homeless.
The true impact of this program is best understood using the words of those residing in communities funded by the PSP Program. In a recent article published by PSP partner Cinnaire, residents of Lansing, Michigan's Walnut Park Apartments—an affordable housing development supported by a PSP investment—reflected on what the facility meant to them.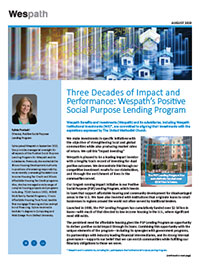 "This place is my sanctuary. I've lived in really bad housing and I've been homeless, in transitional housing and in shelters. This is the first place I really want to be. Everything is brand new and so clean. I am proud to call Walnut Park home. Who doesn't want that?" — Kyle, Resident
In celebration of the PSP Lending Program's 30-year anniversary, and in recognition of the important synergies between the organizations we work with, PSP Director Sylvia Poniecki recently wrote a white paper reflecting on what makes the program tick. You can read it at wespath.org/r/pspwhitepaper.
We thank all those who have contributed to the PSP Lending Program so far—here's to another 30 years, and beyond!