3 Highlights from Wespath's New Sustainable Investment Report!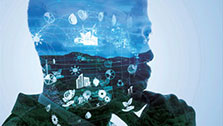 Have you checked out Wespath's Sustainable Investment Report yet?
This newly released report covers Wespath's sustainable investment initiatives over the past two years (2019 – 2020), providing updates on the important work we perform, on your behalf, to promote the values of The United Methodist Church and achieve your long-term financial objectives through our sustainable investment activities.
The full report covers climate-related initiatives, including engagements with Chevron and Occidental Petroleum; our Positive Social Purpose Lending Program; and our support of Environmental, Social, and Governance (ESG) best practices such as board diversity and human rights diligence.
Members of our Sustainable Investment Stewardship (SIS) team selected three highlights below that preview our report:
Empowering a Sustainable Global Economy


The foundation of this year's report is Wespath's sustainable economy framework, which promotes long-term prosperity for all, social cohesion and environmental health. Throughout the report, you'll read about these three pillars and learn how our work seeks to make this vision a reality. We believe a sustainable economy is needed to support your retirement assets for years to come!

Committing to Net-Zero


In a section of the report focused on the pillar of environmental health, we discuss Wespath's membership in the United Nations-convened Net-Zero Asset Owner Alliance (Alliance). Through the Alliance, we are committed to supporting the goals of the Paris Climate Agreement, helping the real global economy transition to net-zero greenhouse gas emissions and decarbonizing our investment portfolios by 2050.

Looking Ahead


Wespath Chief Investment Officer Dave Zellner concludes the report with a hopeful look into a more sustainable future. Dave states that, despite our many differing worldviews, "what unites us all is the desire to provide future generations with a world that is better than the one we inherited."