4 Benefits of Automating Your Investments
LifeStage Investment Management is an automated investment account management solution offered to participants with Wespath-administered retirement accounts. The platform puts your account on "cruise control," automatically adjusting investment allocations based on your own risk tolerance and other key personal information.
We recognize many readers already know and appreciate the simplicity of LifeStage Investment Management—in fact, nearly 80% of Wespath participants are using LifeStage Investment Management right now.
For those who have not yet opted to use LifeStage Investment Management—or for those who are, but want a friendly reminder on the benefits they are receiving—we've put together a short list of our favorite features!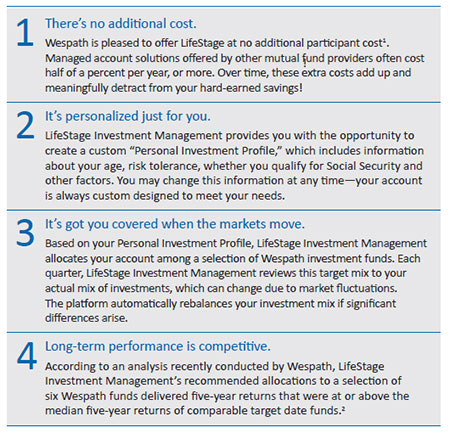 In addition to LifeStage Investment Management, Wespath offers a retirement income distribution solution for retired participants who want to optimize the distribution of their hard-earned savings over their lifetimes. You can read more about LifeStage Retirement Income at www.wespath.org/r/lsri.
1 Costs for EY Financial Planning and LifeStage services are included in Wespath's operating expenses that are paid for by the funds.
2 As of 12/31/20. Historical returns are not indicative of future performance. Medians established via Wespath's proprietary analysis of 2010, 2020, 2030, 2040 and 2050 Target Date Fund Universes provided by Lipper. The Lipper Universe is a group of mutual funds comparable to the Wespath funds. The Target Date Fund Universes have asset allocations comparable to various allocation recommendations made by LifeStage Investment Management. Comparisons between the combined performance of the six Wespath funds at LifeStage Investment Management's various recommended allocations and that of corresponding Target Date Fund Universes were made by Wespath staff, for illustrative purposes only. It is possible to underperform Target Date Funds by using LifeStage Investment Management.