Planning for 2021 and Beyond—
Saving Grace: A Guide to Financial Well-Being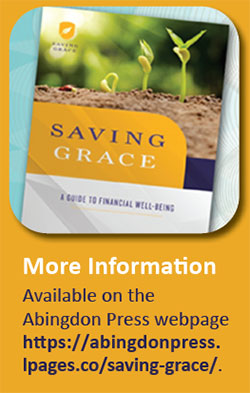 With 2020 in the rearview mirror and the open road of 2021 ahead, there has never been a better time to reflect on our personal financial well-being. You may ask yourself questions like, "What are some goals or intentions I may be considering that relate to earning, spending and charitable giving?," or "How can I best reach these goals, while also managing my debt?" Money is not always an easy topic of discussion—yet having a healthy relationship with our finances supports our holistic well-being.
Wespath—through the Clergy Financial Well-Being Initiative—in partnership with Abingdon Press (UM Publishing House) recently developed and launched Saving Grace—a six-part money management program for clergy and congregations. This unique curriculum uses a biblical lens to shape healthy relationships with finances.
The principles discussed in Saving Grace align with the Wesleyan values that are core to United Methodism. Scriptural references to money are woven into the Saving Grace lessons.
In the first Saving Grace session co-host of the program Rev. Anna Guillozet says it well: "Oftentimes we think about our financial discipline as compartmentalized as just our bank accounts or saving accounts, but it truly is a spiritual discipline for us."
The program includes videos, participant workbooks, a leader guide and devotional materials that reinforce concepts. Additional materials cover matters specific to clergy finances.