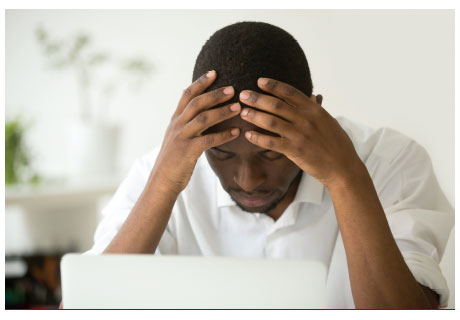 Stop Stressing: Take Steps Toward Financial Health
Don't accept financial stress as a fact of life. Take action to improve your financial and mental health today!
Wespath talks a lot about the connectivity of your five dimensions of health. If one dimension suffers, so do the others, while success in one gives you a boost all around.
Consider, for example, financial stress. It is common—72% report it intermittently while 88% attribute it to COVID-19—but the impact on mental health can be significant. In fact, people with debt are three times more likely to be at risk for depression, anxiety and even suicide.
So what should you do if your finances are keeping you up at night?
Start by taking small steps to improve your financial situation. As a Wespath participant, you can access financial planning and debt management assistance at no additional cost* from EY Financial Planning Services (1-800-360-2539 or wespath.eynavigate.com). You may also have an EAP that covers the cost of counseling in person and/or virtually (HealthFlex offers 8 free visits and can be accessed by calling 1-866-881-6800 or online through benefitsaccess.org).
* EY Financial Planning Services are available to active participants and surviving spouses with account balances, and to retired and terminated participants with account balances of at least $10,000. Costs are included in Wespath's operating expenses that are paid for by the funds.