Wespath Helps You Prepare When the Future is Uncertain
The Reverend Bob Clipp typed a plea for help on his phone. He and his wife were on vacation in Barbados, but Rev. Clipp woke up in the middle of the night and could not fall back to sleep in their resort room. The markets were tumbling as the coronavirus outbreak spread across the globe. His plans for retirement in fewer than four months felt in doubt.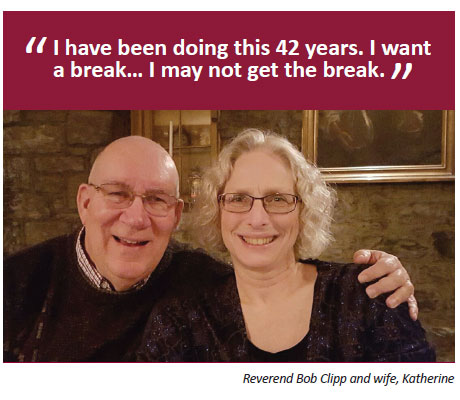 Rev. Clipp first reached out to Karen Conroy, a human resources and benefits administrator for the Baltimore-Washington Conference. His email arrived in her inbox at 2:03 a.m. on March 4, 2020. She forwarded Rev. Clipp's concerns to Bob Christophel, Wespath's Manager of Benefits Education. While still in Barbados, Rev. Clipp also emailed Christophel and asked for advice.
"My panic was not so much, 'Can I retire?'" Rev. Clipp said in January. "The panic was more, 'Do I have to retire and serve a church as a part-time retired pastor?' And emotionally I had come to the point where I had thought, 'OK, I have been doing this for 42 years. I want a break.' One of my panic moments, it was in Barbados, was I may not get that break.'
"They had already appointed (a new pastor to my) church. So, it was not like I could say, 'Hold on. Let's wait. I won't retire this year.' That was all very scary to me emotionally."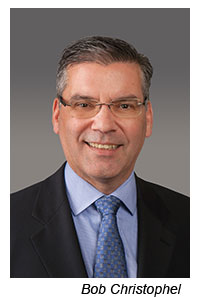 Christophel responded and worked to calm Rev. Clipp's anxiety. Wi-Fi was spotty in Rev. Clipp's room, so they arranged a virtual benefit education consultation after Rev. Clipp returned to his home in Bel Air, Maryland.
"That began this relationship with Bob which I really treasure," Rev. Clipp said. "It's become more than just a professional (relationship) with Wespath. I felt throughout the process that Bob genuinely cared about me—and I still do. And, that he wanted to do whatever he could to make sure I was assured that everything was going to be alright."
Over the course of a series of virtual meetings, Christophel spoke with Rev. Clipp and helped him to understand he could retire as scheduled without fear.
Christophel said he provided Rev. Clipp with a breakdown of his multiple Wespath retirement plans, all of which are different. For example, the Clergy Retirement Security Program (CRSP) provides a monthly retirement benefit for life that is immune to market fluctuations and thus it makes sense to receive the income right away. However, the ups and downs of the market do affect the Ministerial Pension Plan (MPP) and clergy can wait until age 72 to tap into these funds.
Christophel also dispelled a common misconception: Rev. Clipp's retirement savings were not all tied up in the stock market. Rev. Clipp's MPP account balance was managed by LifeStage Investment Management and the automated tool transitioned his investments to more conservative funds as he neared retirement. Many people also elect for LifeStage to manage their United Methodist Personal Investment Plan (UMPIP).
Conroy spoke with Rev. Clipp after his initial conversation with Christophel and she said she noticed "a definite relaxation" in Rev. Clipp. Conroy attributed that to the way in which Christophel explains retirement benefits.
"He doesn't use a lot of terminology people aren't familiar with," Conroy said. "He puts some humor into it. He puts himself into the conversation. He has explained a lot of the plans to me or helped when I have a question. He has a way of explaining things in a way you can understand. It's not like when I sit with my financial person that we inherited from my father-in-law and it just goes straight over my head and I say, "Uh huh, uh huh.' No, Bob, he wants you to understand. He wants you to know the why behind things."
Conroy first reached out to Christophel because she wanted to put Rev. Clipp in contact with someone he knew. Christophel regularly attended the Baltimore-Washington Annual Conference and he spoke at the conference's annual pre-retirement seminar. Rev. Clipp also met Christophel at the 2018 Clergy Benefits Academy that Wespath hosted in Nebraska.
The coronavirus pandemic brought such in-person events to a halt last year. In response, Christophel and his team introduced virtual benefit education consultations for participants. Christophel conducted monthly virtual consultations with Rev. Clipp up through his scheduled retirement on July 1—and past it to check-in and follow up.
"That's one of the great things about the benefit education consultation program: It's not one 30-minute private consultation and that's it, you're done," Christophel said. "These are unlimited. I, and the team, did have many clergy that would check back with us for subsequent, or follow-up, consultations. The program itself, I think, was just very rewarding. We got to meet a lot of spouses. We got to help a lot of participants."
Christophel also pointed out that clergy will never get a bill in the mail after a virtual consultation because the consultations are provided free of charge to the participant.
Christophel's consultations with Rev. Clipp evolved with time—and as the market rebounded—to include broader topics of conversation. Christophel and Rev. Clipp developed a bond over a shared love of baseball. Christophel, a New York native, is a New York Mets fan and Rev. Clipp roots for the Baltimore Orioles.
Rev. Clipp, who wore an orange dress shirt and drank from an Orioles souvenir cup during an interview conducted via Zoom, can now pursue his dream job in retirement: Serving as a tour guide at the Orioles' home ballpark, Camden Yards.
"I am much more financially comfortable now than I was when I was serving in a local church," Rev. Clipp said. "I had a good appointment, a nice salary. But I've been surprised at how the Wespath program that I'm a part of has really helped me more than I could have ever expected."
Retired Pastor Bob Clipp Shares Advice for Younger Clergy