For three decades, the PSP Lending Program has worked to help provide affordable housing and community development projects for disadvantaged areas in the United States, as well as microfinance opportunities abroad (loans to small businesses and individuals who lack access to traditional banking services)—all while seeking market-rate investment returns.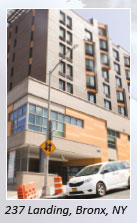 The program began with $25 million to originate short-term loans linked to the Low Income Housing Tax Credit program supporting affordable housing for low- and moderate income individuals and families. Since then, Wespath has invested more than $2 billion, creating or preserving more than 52,000 affordable housing units across all 50 states and the U.S. Virgin Islands.
The PSP Lending Program has also invested in developing regions, including Latin America, Eastern Europe, Southeast Asia and Africa—areas that have little or no access to traditional financial services.