General Conference 2019 Update

The "Traditional Plan" was passed by a majority of delegates to the special called General Conference held February 23 – 26 in St. Louis. This plan upholds The UMC's restrictions on ordaining LGBTQ clergy and officiating at same-sex marriages.
In April, the Judicial Council will consider portions of the Traditional Plan previously identified as "unconstitutional" based on Church law. Depending on the Judicial Council's April ruling, these portions may be eliminated from the final Plan.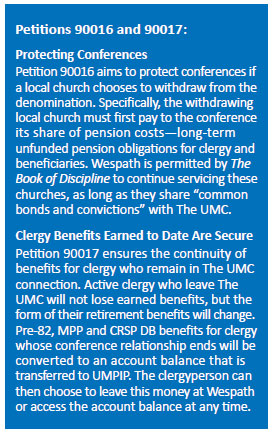 Wespath's Mission Remains
Wespath maintains an unwavering commitment to our mission: caring for those who serve by providing investment and benefit services that honor the mission and principles of The United Methodist Church. We will continue to plan for the longterm sustainability of your benefits.
Last year, Wespath was asked by the Commission on a Way Forward and the Council of Bishops to analyze the potential benefits impacts of the church structure petitions brought to General Conference. For participants who remain in connection with The UMC, nothing will change—retirement benefits for clergy and lay employees continue as usual. This scenario planning resulted in the recommendation and approval of two petitions intended to address pension-related issues: Petitions 90016 and 90017.
Wespath will continue to provide updated information on this topic via a Frequently Asked Questions webpage—wespath.org/WayForwardWespathFAQ.
We are prepared to make whatever changes are required to continue serving the Church in whatever form it takes. We have been caring for those who serve for over 100 years, and that will continue well into the future.
From the April 2019 issue of Hark!