3 Smart Uses for Your Income Tax Refund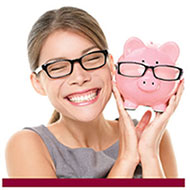 2018 ushered in big changes to U.S. tax law leaving many taxpayers unsure of what to expect when filing this year. If you receive a refund, you should decide how to use the extra cash to meet your goals.
You might need to split up your refund to put a little money aside for multiple goals, or you may have other plans for your refund. Set and prioritize your financial goals, ranking them based on: importance, time before the financial need and your ability to access other funding sources.
If you need help, contact EY Financial Planning Services for professional financial assistance at no additional charge at 1-800-360-2539.* Learn about this service at https://www.wespath.org/retirement-investments/retirement-investment-resources/ey-financial-planning-services.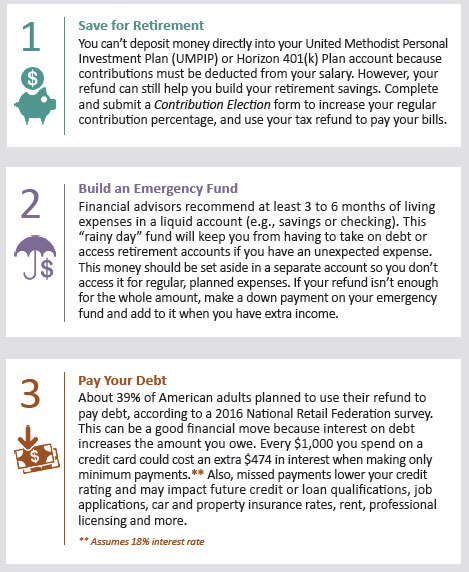 Watch the "7 Things to Do with Extra Money" webinar on the EY website at wespath.eyfpc.com—log in then view the archived January 17 presentation by clicking "EY Events" under the search box on the right side. You will need your participant number—accessible in Benefits Access (benefitsaccess.org) under My Benefits > Personal Profile > Personal Information or by calling Wespath at 1-800-851-2201.
* Costs for EY Financial Planning Services are included in Wespath's operating expenses that are paid for by the funds. Services are available to active participants and surviving spouses with account balances, and to retired and terminated participants with account balances of at least $10,000.
From the April 2019 issue of Hark!