By the Numbers: The Historic Bull Market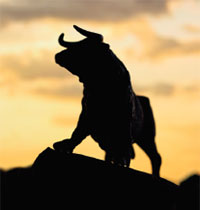 In the wake of the economic crisis of 2008, the U.S. stock market reached its lowest point in March 2009. What followed represents the longest-running "bull market" in history. If it continues, it will turn 11 years old in just a few weeks.
A bull market is a period during which stock prices have significantly risen over a period of months or years. While the stock market has seen its ups and downs over the past year, we have not witnessed a 20% decline—the signal of a bull market's end—in over a decade.
This unprecedented streak offers plenty of data points to consider. Let's take a look at a few key numbers behind the bull market:
The S&P 500, a stock market index that measures major companies listed in the U.S., has risen over 300% during the bull market.*
Despite its record length, the current bull market trails the 1990s bull market's overall performance. During that run, the S&P 500 rose more than 415%.
In late 2018, a three-month stretch of volatility saw the S&P 500 decline 19.8% from its previous high, narrowly avoiding the end of the streak.
Wespath and its subsidiaries' assets under management have grown nearly 103% since March 2009.*
* As of 11/13/2019