Proxy Voting
All publicly traded companies hold annual general meetings (AGMs) during which shareholders cast votes on a variety of issues, including shareholder resolutions as well as governance matters like the election of directors and executive compensation packages.
The funds managed by Wespath hold shares in nearly 5,000 companies, and we have the opportunity to vote at each of their respective AGMs.
In the absence of more direct engagement, proxy voting is an important tool for fiduciaries, as it offers a format to express concerns and encourage sustainable business practices. Generally, we support shareholder resolutions that promote long-term value creation and incorporate environmental, social and governance (ESG) issues into corporate strategy.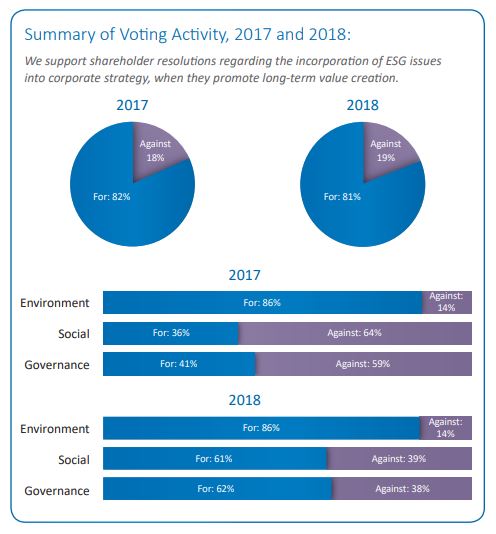 Proxy Voting Guidelines
All of our proxy votes are cast in accordance with our Proxy Voting Guidelines, which are annually updated and approved by our Board of Directors. The values of The United Methodist Church (UMC), as well as our understanding of the responsibilities of prudent fiduciaries, help shape these guidelines. They are organized in four main sections:
Governance

Board of Directors
Executive Compensation
Shareholder Rights

Environmental and Social Factors
Disclosure
Securities Lending Program
We engage Glass Lewis, a leading proxy analysis firm, and other data sources to help us execute our policy. Resources like those offered by Glass Lewis help us review and understand resolutions and proposals, and although our staff votes the ballots of many large holdings on a case-by-case basis, Glass Lewis also assists in executing certain votes. Wespath's proxy voting record can be found here.
Proxy Voting Examples
In recent years, Wespath's proxy voting activity has extended throughout the ESG spectrum and touched on several key sustainability topics.
Environmental: Kinder Morgan
Wespath has voted in favor of resolutions asking major companies, including energy infrastructure giant Kinder Morgan, to prepare 2-degree scenario analysis reports in alignment with the Paris Climate Agreement. The resolution at Kinder Morgan received majority support at the company's 2018 AGM.
Social: RiteAid
In response to the ongoing opioid crisis, investors are increasingly asking companies to assess their risks and implement strong governance controls related to drug marketing and due diligence. In 2018, Wespath voted in favor of a resolution asking pharmaceutical chain RiteAid to provide a risk report related to the opioid epidemic. The resolution passed with majority support.
Governance: Disney
In 2017, Wespath supported an advisory vote opposing an executive compensation plan from the Walt Disney Company, which we felt overemphasized short-term metrics. We believe a focus on near-term pay and metrics can negatively impact management's ability to run a business in the best long-term interests.
More Proxy Voting Information
Shareholder Engagement Resources