Deskercise Videos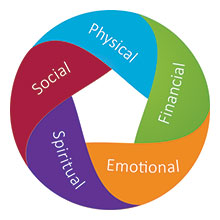 Sitting at a desk or a computer all day can lead to desk fatigue. This type of inactivity can cause a high risk for musculoskeletal disorders like carpal tunnel syndrome. Musculoskeletal disorders develop over time and can affect the arms, neck, hands, fingers back, wrists, legs and shoulders. It is important to take breaks throughout the day. Deskercise – desk exercises – can help reduce these risks and avoid injury. Just 10-30 seconds can be the difference in your well-being, saving you from musculoskeletal disorders. Try it once, or multiple times a day. Invite your co-workers to try on their own or make it a group activity for consistency and camaraderie.
Be Humble Deskercise Video
Ear to Earth Deskercise Video
Extended Prayer Deskercise Video
Greet Your Neighbors Deskercise Video
Open Your Heart Deskercise Video
Reach for the Heavens Deskercise Video

Wespath's sharing of this general information should not be construed as, does not constitute, and should not be relied upon as medical advice nor legal, counseling, accounting, tax, or other professional advice or services on any specific matter.
Links to web sites other than those of the Center for Health and the UMC Health Ministry Network are offered as a service to our readers; we were not involved in their production and are not responsible for their content.
Sources: American College of Sports Medicine, acsm.org, and University of Arkansas Division of Agriculture, uaex.edu.