Retirement Housing Considerations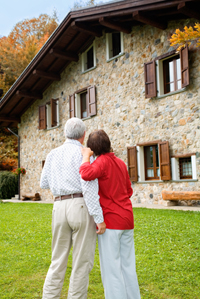 You will need to consider future housing arrangements as retirement nears. Ask yourself the following questions:
1. Where do you want to live?
Do you want to be close to friends and family?
Do you want to live in a particular area of the country?
Is it important to have easy access to cultural activities, such as theaters, museums, art galleries and libraries?
Is access to public transportation important?
If you're considering purchasing a home in an unfamiliar community, should you rent for a while to decide if you like the area or neighborhood?
Are you anticipating future moves?
2. What kind of housing would be best?
Do you want the independence and privacy of a house? Can you handle yard work and maintenance?
Will your home need to be handicap accessible?
Would you like to live in a building with a security guard, video surveillance and other security features?
Will you consider assisted-living facilities or housing facilities that offer independence now but provide assistance if you need it later in life?
3. What kind of housing can you afford?
Should you rent or own your home?
Will your retirement benefits, Social Security and personal savings be enough to cover your rent or mortgage without straining your budget?
Should you consider moving to a community with a lower cost of living?
Should you purchase a home outright or apply for a mortgage and make monthly payments? (Can you qualify for a mortgage?)
4. What happens to the clergy housing allowance exclusion at retirement?
Most clergy exclude a housing allowance from their gross income when paying federal income taxes during active ministry. But, this housing allowance exclusion may be available after you retire. For more information about the housing allowance and a housing allowance exclusion worksheet read the Are You on Track to Retire? brochure.
Housing Calculators and Guidance
Wespath Benefits and Investments participants have access to planning assistance at no additional cost to you.* You can call EY for confidential, no-charge guidance from an EY financial planner about how to structure your home purchase to maximize use of the clergy housing allowance. The EY website also offers a wealth of resources, including calculators on various housing-related topics, such as:
renting vs. buying
mortgage loans
mortgage debt consolidation
adjustable rate mortgages (ARMs) vs. fixed-rate mortgages
fixed-rate mortgages vs. interest-only mortgages

* Costs are included in Wespath's operating expenses that are paid for by the funds. Services are available to active participants and surviving spouses with account balances, and to retired and terminated participants with account balances of at least $10,000.