Make Money Moves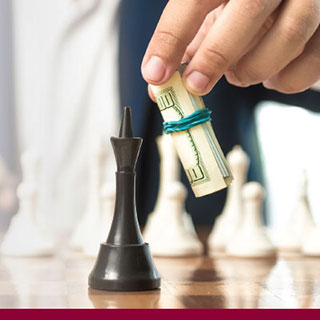 Take an EY Confidence Checkup
The EY Confidence Checkup is a five-minute online survey that can help you understand and begin to address your financial concerns.
The assessment asks questions about your financial behaviors (e.g., whether you pay bills late) and attitudes toward your finances. At the end, you receive a score and recommendations for actions you can take to improve your financial wellness in your personalized dashboard.
Once you complete the assessment, discuss your score and your recommendations with a financial planner. Appointments can be scheduled from the dashboard under Plan.
The EY website requires unique usernames and passwords to help ensure the security of your information. Registration is quick and easy:
Retrieve your Employee ID/participant number
— Log in to Benefits Access and select My Benefits>Personal Profile>Personal Information
— Call us at 1-800-851-2201
Visit the EY website and click "Register now"
After logging in:

Click , then select "Account Activity," OR
Click , then choose "Profile," then select "Account Activity."
EY financial planners are available for guidance at no additional cost to you by phone at 1-800-360-2539 or via the Web chat feature on the site.*
Review Your Investment Strategy
Your investment strategy should be reviewed at least annually and when your situation changes (e.g., risk tolerance or expected benefits commencement date). When evaluating your investments, consider:
The level of diversification and risk that's appropriate for you
The timeframe over which you will be investing
Whether it is time to change your investment election, rebalance your account and/or start using LifeStage Investment Management
To elect LifeStage Investment Management, log in to Benefits Access, select Take Action>Manage Investments>Enroll in LifeStage Investment Management Service.
Evaluating investments can be complicated—even for experienced investors. That is why, even if you elect not to use LifeStage Investment Management, Wespath offers objective, confidential financial planning assistance at no additional cost to you from EY Financial Planning Services—call 1-800-360-2539, business days from 8:00 a.m. to 7:00 p.m., Central time.*
Read more about evaluating your investments.
Review Your Credit Report
A low credit score can increase your costs for credit and insurance, and can even impact your employability—as employers may see it as an indicator of financial irresponsibility. Checking your credit periodically can keep you aware of your creditworthiness and inform you of potential financial fraud.
You're entitled to one free report annually from each bureau—Experian, Equifax and TransUnion—stagger the checks every four months at annualcreditreport.com. That will give you three opportunities to check in on your credit status each year.
Your credit report displays:
Your personal information, such as your employer and addresses where you've lived.
The history of your credit use, on-time and late payments for credit card accounts and installment loans (e.g., student debt, car loans, mortgages).
Other actions that predict your creditworthiness, such as bankruptcy or tax liens.
If you see an error on your credit report, contact the company that provided the incorrect information so that it can be corrected in their files. Then, report it to the credit bureau that issued the report by following the instructions on their websites or send a complaint by certified mail (sample letters available from the FTC and CFPB), including:
Your contact information (name, address, phone, e-mail)
Report confirmation number, if available
Location of each mistake and reason for dispute (enclose copy of credit report and circle or highlight the disputed items)
A request that the incorrect information is removed or corrected
Recent data breaches emphasize the importance of staying informed. If the error is suspicious and could be related to identity theft, also visit identitytheft.gov to report the incident and develop a recovery plan.
Set Your Savings Goals
Saving for your future is easier than you might think. You can set aside relatively small amounts that could lead to significant savings over time.
Consider taking the following steps to bring your goals in reach:
Identify and prioritize your goals—Think about your reasons for saving, such as retirement contributions, children's education, home or car down payment and debt repayment (e.g., student, mortgage, personal or car loans).
Set up an emergency savings account—Prevent financial emergencies (e.g., job loss, significant medical expenses, home or auto repairs) from causing you to dip into retirement savings or take on additional debt. Financial advisors recommend that you set aside at least six months of living expenses in a savings or money market account.
Fund your retirement plan—Retirement planning should take into account your individual goals. Use our projection tools and consider professional financial counseling to create a customized plan that addresses opportunities to reduce debt and increase savings.
Make your savings automatic—Make automatic deposits into your savings account, from your employer or from other accounts dedicated to paying expenses. Most major banks will allow you to link checking, savings and money market accounts for easy, immediate transfers. If you hold accounts at separate banks, you can often transfer funds between banks for free.
Still don't know how to put your savings plans in motion? Give EY a call and let a financial planner help you find savings opportunities.
Review Your Designated Beneficiaries
Be sure you have designated one or more beneficiaries on file with Wespath and that you update it at times of change (marriage, divorce, child birth or adoption, etc.). A beneficiary is the person, organization (religious, educational, charitable, etc.), trust or other legal entity that receives plan benefits after you die or if you cannot be located when a benefit is payable.
It is important to keep your beneficiary information up to date so we can distribute your assets according to your wishes. To add, remove or update beneficiaries, log in to Benefits Access and go to "Take Action">UPDATE PERSONAL DATA>"Update beneficiary designations."
If you're restricted from using Benefits Access, you can complete and return a Beneficiary Designation form to Wespath.
---
* Costs for EY Financial Planning and LifeStage Investment Management are included in Wespath's operating expenses that are paid for by the funds.