Retirement Readiness Statement
The Retirement Readiness Statement is sent annually to participants in Wespath-administered retirement plans to show projected monthly retirement income and estimated monthly benefits from Social Security, if applicable. The statement attempts to answer three questions:
How much retirement income you are expected to need
How much you are projected to have
Whether you are projected to have a gap
This overview will explain how to read the statement and answer questions you may have about how your statement was created.
Understanding Your Statement
The top half of the first page of the statement offers an at-a-glance overview of whether you are expected to meet your retirement income needs.
The projection on your statement is based on the information shown on the statement—age at retirement, current plan compensation and current contribution rate. To find out about the assumptions used to project your plan account balances, read the Assumptions and Methodology document.
Example: Clergy near retirement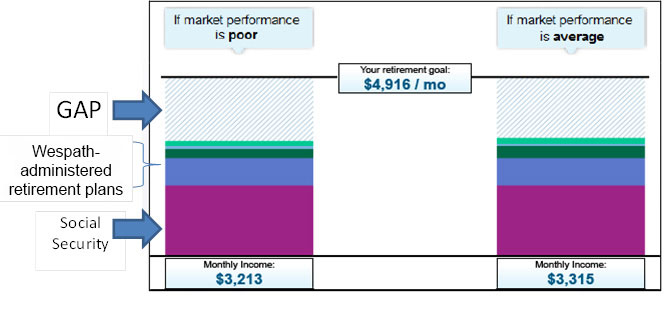 The bar graph shows your projected future retirement income at your normal retirement age or one year from your current age if you are already past your normal retirement age. Normal retirement age is age 65, or the age at which you will have completed 40 years of eligible clergy service, if earlier.
The bar on the left shows projected retirement income if market performance is POOR (returns of -5% to 5%).
The bar on the right shows projected retirement income if market performance is AVERAGE (returns of 4% to 8%).
The box in the middle of the two bars indicates your retirement goal, which is 85% of your current compensation increased by assumed inflation until the year prior to retirement.
The color blocks on the bars represent the projected monthly income from Wespath-administered retirement plans in which you participate, as well as your estimated Social Security payments, if applicable. Consult the legend below the graph to see what color is used to represent each plan.
Your projected account balance is converted to monthly income using the LifeStage Retirement Income Calculator.
Social Security is a rough estimate based on current income and assuming you contribute for your full career. We do not have any information from the Social Security Administration regarding your actual level of participation or accrued benefits.
The gap is determined by comparing your monthly income to your projected retirement goal. If your projected income is less than the projected retirement goal, your statement will show a gap.
Limitations of this Statement
The annual statement is only a projection. The amounts shown are subject to assumptions as reflected in the Assumptions and Methodology document.
If the information used to project income, or the retirement plan or program, changes significantly, your projection will not be reliable
Note: We don't always have accurate compensation because many employers calculate their own retirement plan contributions and pay those amounts directly into participant accounts. You can rerun your projection using the Retirement Readiness Tool in Benefits Access—entering your actual plan compensation in the tool.
Your situation may be better than projected if:
You have pensions, annuities, retirement accounts or investments outside of Wespath
You expect your income needs to be significantly less than the goal, even after customization (e.g., your mortgage or student debt will be paid off)
You will receive subsidized retiree medical benefits
Your situation may be worse than projected if:
You plan to retire before your normal retirement age as shown in the statement
Our assumptions about your Social Security income are incorrect, for instance because:

You did not qualify for or waived Social Security for all or a portion of your career
You were out of work for extended periods
You received large raises that significantly increased your pay

You plan to spend a significant portion of your account balance for a large purchase soon after retirement (e.g., to purchase a home)
Your expenses will significantly increase in retirement (e.g., you will begin paying a mortgage)
You incurred one or more breaks in service, which may impact the amount of your benefits
Also, consider your family situation. If you are married, your spouse may also be receiving compensation that may need to be replaced when he or she retires to maintain your family's standard of living. If you are married, you may find it helpful to talk to

EY Financial Planning Services

rather than relying solely on this statement.
Remember that your plans or circumstances may change over time (e.g., planned retirement age, housing or health care costs, returns on accounts). Be sure to run your projections and/or speak with a financial planner periodically to stay on track.
Available Resources
EY Financial Planning Services is available at no additional cost* to help you determine how much to save and how to invest.
Wespath representatives are available business days from 8:00 a.m. to 6:00 p.m., Central time at 1-800-851-2201.
You can view current account information or customize your Retirement Readiness projection in Benefits Access. You can also view a primer on using the online Retirement Readiness Tool.
At Wespath, our ultimate goal is to help you to be financially prepared for retirement. We want to be your ally—helping you make the decisions that will give you comfort and peace of mind today and for all of your tomorrows.
---
* Costs for these services are included in Wespath's operating expenses that are paid for by the funds. Services are available to active participants and surviving spouses with account balances, and to retired and terminated participants with account balances of at least $10,000.