Recipe: Skip the Added Sugar, Not the Flavor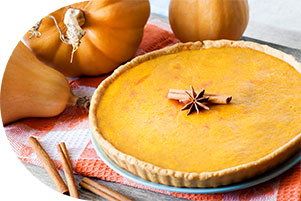 Dreading the holidays because you love sweets or find them difficult to avoid? Eating right can be tough at this time of year, and if you are diabetic, or simply trying to reduce your sugar intake, it can seem like an impossible task.
We can help! Here's a healthy, low-sugar recipe that brings all the taste without the worry.
Sugar-Free Pumpkin Pie
1 pie crust
1 (15-oz.) can pumpkin
1/3 cup sugar substitute
2 Tbsp honey
1-1/2 tsp pumpkin pie spice
2 eggs
1 tsp vanilla
¾ cup evaporated milk
Line pie tin with pie crust and crimp edges. Combine remaining ingredients in large bowl with mixer. Pour pumpkin mix into pie crust. Bake at 375 degrees F for 45 minutes, or until center is firm.