November Is National Diabetes Month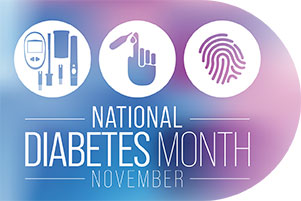 Did you know that 37 million people in the U.S. have some form of diabetes and of those, 1 in 5 don't even realize they have it? November is National Diabetes Month and the perfect time to learn the facts and understand your own risk.
Did you know that diabetes…
Is debilitating and the leading cause of blindness, amputations and kidney failure?
Can damage your heart? Those with diabetes are twice as likely to develop heart disease compared to those without diabetes.
Is costly? Medical costs for people with diabetes are twice as high as for people who don't have diabetes.
Is the 7th leading cause of death in the United States (and, according to the CDC, may be underreported)?
Occurs when the body can't produce insulin, a hormone in the pancreas that breaks down carbohydrates into blood sugar or glucose, for energy. Insulin therapy helps the pancreas to function normally. Many children suffer from Type 1 diabetes although it can affect people of any age or background.
In its most common form is Type 2 diabetes? With this disorder, the body is unable to make enough insulin or use it effectively to keep blood sugar at normal levels.
Understanding your own risk:
You may be predisposed to Type 2 diabetes if you are overweight, older than 45, have a family history of diabetes, lack exercise in your daily routine or have been diagnosed with prediabetes. CDC research shows that once individuals are made aware of their condition, they are more likely to make the necessary long-term lifestyle changes, such as eating healthier, managing weight and increasing activity levels.
Take the time to assess your own risk:
While these quizzes are helpful, they are not a substitution for consultation with your doctor and a clinical blood test.
What's next?
Consult with your physician.
Adopt a healthy diet that includes vegetables, whole grains, fruits, non-fat dairy foods, healthy fats and lean meats.
Focus on becoming more active with aerobic activity such as walking, biking, swimming, taking the stairs throughout the day, strength training and flexibility exercise such as yoga. Be sure to consult with your physician if you are not currently active.
Take the assessment to see if you qualify for Wespath's Diabetes Management program through HealthFlex.
---
Sources
https://www.cdc.gov/diabetes/basics/quick-facts.html
https://nationaltoday.com/national-diabetes-month/
https://www.cdc.gov/diabetes/campaigns/national-prediabetes-awareness-campaign.html
https://diabetes.org/diabetes/newly-diagnosed#:~:text=Start%20with%20an%20ADA%2Dapproved,of%20one%20type%20of%20food