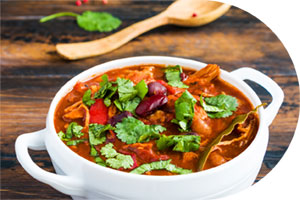 Crocktober: A Month to Feast on Healthy Crock Pot Recipes
October is not just all about things pumpkin spice. The air is crisp, football season is under way and many of us are craving a warm bowl of crockpot chili. Crocktober season is here!
We've compiled five crockpot recipes from the Delish and Kitchn websites to help you get in the spirit. Not only are these recipes healthy, but they are a great way to meal prep for the week. They can be made in advance and easily re-heated. Try these minimal-effort recipes to get meals with maximum taste!
Crockpot Chicken Fajitas – The introduction to the recipe explains that "chicken and veggies all release moisture, which the slow cooker then uses to steam the food as it cooks." As a result, it is recommended that once the chicken is done cooking you drain off the excess liquid. Then you are ready to load up your tortillas!.
Slow Cooker Turkey Chili – Enjoy a big bowl of this healthy, easy-to-make chili while watching football on the weekend!
Curried Vegetable and Chickpea Stew – This vegan stew's packed with hearty vegetables and great on its own or served over cauliflower rice. This recipe makes 8 to 10 servings—more leftovers to store in the freezer!
Slow Cooker Blueberry Oatmeal – "Crockpotting" is not just for dinner. Make this easy recipe the night before and serve it for breakfast.
Slow Cooker Quinoa Risotto with Carrots and Asparagus – Including the word "Risotto" in the name of this recipe is a bit misleading because rice is not one of the ingredients. Instead, quinoa is cooked in the style of a risotto. Sometimes called a superfood, quinoa is a good source of plant protein and fiber, plus it is naturally gluten free. With this recipe you are invited to BYOV (bring your own veggies) and add more to your crockpot.