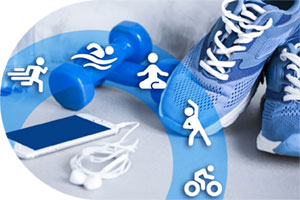 Apps to Help You Stay Fit – On Your Own Time
Technology improves our lives in many ways, like, keeping us in touch with family and friends or providing on-demand entertainment. Phone apps can also provide a way to engage with our hobbies and areas of interest, including helping us stay active and physically fit. These apps can provide workout ideas and flexibility that go a long way. We have compiled a list of popular apps that can help keep you healthy on your own time.
Virgin Pulse – If sponsored by your conference or employer, the Virgin Pulse app lets you access your conference's well-being program. The core features are at your fingertips for on-the-go healthy living: Track your steps, active minutes, calories burned, and sleep. Track your program rewards and progress to the next milestone.
Fitness Buddy - Fitness Buddy is like a virtual personal trainer and nutritionist in one, with hundreds of workouts to tackle at home or at the gym, plus personalized meal plans and recipes.
My Fitness Pal - MyFitnessPal can help you dial in that nutrition so you can really see the results of all your time in the gym. With a huge food database, barcode scanner, recipe importer, restaurant logger, calorie counter, and food insights, you'll have a comprehensive idea of your nutrition.
Home Workout – No Equipment - You don't need to go to a gym to get a good workout. Sync Home Workouts with your Apple Health app for easy-to-follow workout guides, daily workout reminders, and summaries of progress over time.
Workout for Women: Fitness App – In the need of a quick, everyday workout to squeeze into your busy day? Use this app for maximum results from as little as seven minutes a day, including a wide range of exercises, from those aimed at beginners to those for more advanced fitness buffs.
Source: https://www.healthline.com/health/fitness-exercise/top-iphone-android-apps#_noHeaderPrefixedContent