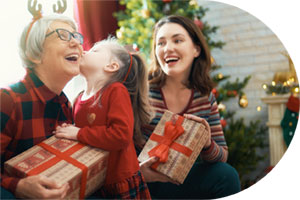 Enjoy the Holidays Without Going Broke
The holidays are fast approaching—along with all the related expenses. As you anticipate holiday parties, gifts, and meals, you might consider creating a holiday budget. We've pulled together several ideas for you to help guide your holiday spending, while still enjoying this special time of year!
Develop a Budget
Ideally, planning for holiday spending is a year-round activity, but there are several steps you can take now to prepare:
Set up an account at your local bank for your holiday expenses
Add to an existing account and track the amount put aside for the holidays.
Consider the envelope method:


Each week place an amount in the "holiday expenses" envelope
Increase the amount over time
Add more to the envelope if extra money arrives (refunds, bonuses, etc.)
Create a Holiday List
Create a holiday list, with anticipated gifts for family, friends, work colleagues and service providers such as the postal worker.
In addition to gifts, the list should include anticipated costs associated with entertaining, including decorations and groceries so you can see the full scope of your spending. Be sure to save a copy of this list and record how much you spent so you can set your budget for next year!
Think About Gifts
Set a limit on how much you intend to spend on gifts for family, but also speak with your friends to set limits on how much you will spend. For those with large families or a circle of friends, suggest a "secret Santa" or grab bag where you limit the number and the number of gifts, all while having fun.
The saying is true: It's the thought that counts! If you enjoy craft activities like knitting, sewing, candle making, etc., use your time and talent to make gifts. DIYers can make, build, or create something they know will be appreciated.
Find Ways to Save
As the season draws near, stores offer "bargains" on Black Friday and Cyber Monday, with doorbusters and more. Be sure to do your homework. For example, go online to do comparison shopping and confirm whether the bargains are really bargains or just packaged as bargains. Look for coupons or promotional codes.
For disposable items like holiday napkins, tablecloths and decorations—or if you enjoy bringing a bottle of wine or a sweet assortment to holiday gatherings—visit big box stores like Costco for the best deals. Better yet, go in with a friend or family member who uses similar items. Buy in bulk and split the cost with one or two others.
Hosting a holiday meal at home? You don't have to do it all! Ask those invited to bring a dish or dessert. People enjoy making their favorite dish and sharing it.
The holiday season is a joyous time, but it can also be a source of financial stress. We hope these tips can help you can "spend" your time on what really matters.