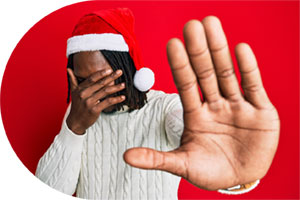 Emotional Well-Being Support During the Holidays
The holiday season can be the most wonderful time of the year, but it also can bring stress, anxiety and depression. Strained family relationships, finances, entertaining and a fear of gathering with others during the pandemic can take a heavy toll on your emotional well-being. It's important to be realistic, plan ahead and—most importantly—seek support.
The Mayo Clinic offers the following tips to ward off stress and depression during the holidays:
Acknowledge your feelings. If you are not able to be with a loved one over the holidays, it's OK to feel sadness and grief.
Reach out. Are you feeling lonely or isolated? You are not alone, but it's important to ask for help. Reach out to a friend, or find community through religious – or other – social events. An online support group, social media sites or virtual events also can offer companionship.
Be realistic. The holidays don't need to be perfect. Traditions and rituals might change and there are always meaningful ways to celebrate. If family cannot come together in person, connect virtually. You can share old family photos and videos or host a virtual holiday gathering.
Stick to a budget. Avoid stress by setting a budget before you begin your holiday shopping. Once you have decided what you can afford to spend, stick to your spending plan!
Learn to say no. It's OK to say no to holiday activities. When you overcommit you might be left feeling resentful and overwhelmed. If you have a commitment that you are not able to say no to, try to remove something else from your schedule.
Don't lose focus on healthy habits. It's all too easy to use the holidays as an excuse to leave your healthy habits behind. Try having healthy snacks available before holiday meals, get plenty of sleep, continue to incorporate physical activity into your daily routine and don't forget to take time for yourself.
For those conferences and employers who sponsor Virgin Pulse®, they now offer several well-being resources through Whil™. The Whil – Self Awareness program, designed to reduce overall stress, teaches users about mindfulness and emotional intelligence. You can also learn about yoga basics with Whil. To use Whil for free, log into Virgin Pulse, visit the Benefits tab and search for Whil. To learn more about Whil, click here for an informational flyer or follow this link to watch an introductory video.