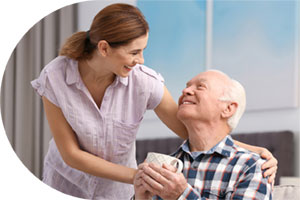 November is Alzheimer's Awareness Month: Caring for the Caregivers
If you are caring for a family member with Alzheimer's or another dementia, you are not alone. According to a 2020 report from the Alzheimer's Association*, more than 16 million unpaid caregivers are right there with you.
This care is valued at nearly $244 billion, but its true cost extends to family caregivers' increased risk for emotional distress and negative mental and physical health outcomes.*
When you're committed to care for another, it's not always easy to care for your own well-being. You might feel guilty if you take time for yourself. Or you could develop habits that are comforting and calming, but not entirely healthy, such as overeating or non-social drinking.
As you navigate the role of a caregiver, Wespath encourages you to take time to take care of your own physical, mental and social dimensions of well-being.
Physical and Mental Health
You've heard it before:, exercise keeps the body and the mind in shape. The Centers for Disease Control (CDC) notes that just 30 minutes of walking each day can help with overall fitness and the effects of stress.** Set aside time for a walk or other physical activity, even it means waking up 30 minutes earlier. You might find it helpful to download a fitness or activity app to add accountability and encouragement.
Social Support
Caregivers often think they should be stoic and "just deal with it," especially when caring for a family member. However, it's important to learn when to ask for help. A support system or a support group can help with questions that come up when faced with caregiving challenges. Caregiver support lines can also be an excellent resource. That 30-minute walk? Find a friend to walk with! Often, just being with someone else can take us out of our thoughts and into a more positive outlook.
Sometimes, though, you might need professional help and that's okay. Be sure to seek counseling if needed. Your Employee Assistance Program (EAP) or mental health benefits through your health plan can help with the costs of a counselor or therapist.
Self-care
Air travelers receive pre-flight safety instructions, including what to do if there is a sudden change in cabin pressure and oxygen masks drop down from the compartment above. Flight attendants conclude with the words: "Be sure to put on your mask before helping others."
As a caregiver, it's important to "put on your mask" and take the time to self-care—get plenty of fresh air, healthy food, rest, and exercise so that you stay healthy. Putting yourself first will go a long way in your caregiving role and quality of life.
* (2020), 2020 Alzheimer's disease facts and figures. Alzheimer's Dement., 16: 391-460. https://doi.org/10.1002/alz.12068
** (2020) Physical Activity Guidelines for Americans, 2nd edition (Chapter 2, page 32)