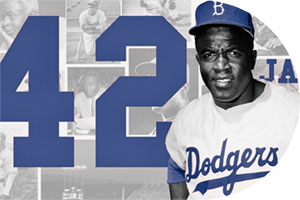 Jackie Robinson: How a Shared Faith Helped Bring Integration to the Major Leagues
The central figures in the integration of Major League Baseball—an event that transcended sports and still resonates with us nearly 75 years later—were shaped by their shared Methodist faith.
In 1945, Jackie Robinson traveled to New York to meet with Brooklyn Dodgers executive Branch Rickey. What followed during their three-hour conversation was, "these two very strong-willed individuals came to one accord," Negro League Baseball Museum president Bob Kendrick said on the "Black Diamonds" podcast. Robinson was Rickey's pick to integrate Major League Baseball.
Rickey liked that Robinson had been a student-athlete at U.C.LA. who played against white athletes, according to Lee Lowenfish, author of Branch Rickey: Baseball's Ferocious Gentleman. However, that wasn't Robinson's only positive attribute.
"I think he (Rickey) liked that Jackie was religious, that Jackie was a Methodist as he was," Arnold Rampersad said while interviewed on the "Black Diamonds" podcast. Rampersad wrote Jackie Robinson: A Biography.
Robinson attended Scott Methodist Church in Pasadena, California, while growing up, and the church's pastor, the Reverend Karl Everette Downs, preached a message that resonated with Robinson.
"For Downs and those who were part of the Social Gospel movement, Christianity was largely about using principles of freedom and equality and justice and then applying those to the communities and societies around you," said Michael G. Long, co-author of Jackie Robinson: A Spiritual Biography. "And so, what Robinson saw in Downs and his social ministry was that Christianity had practical applications in one's everyday life and in one's community, and Robinson was really attracted to that."
Robinson embodied those teachings as an adult when he broke Major League Baseball's color barrier on April 15, 1947, by playing for the Brooklyn Dodgers. Despite death threats and racial abuse, Robinson was a beacon of success on the diamond. He played 10 seasons with the Dodgers, helped Brooklyn win the World Series in 1955, and was elected to the Baseball Hall of Fame following his retirement.
While Robinson did not talk at length about his faith with sports writers, it was central to his life.
"During his baseball years, Robinson was a pious believer. There is no doubt about that," Long said. "Rachel Robinson tells stories about her husband coming home from the ballpark in the early days of his career with the Dodgers and heading to the bedroom and getting on his knees and praying to God for strength and courage to make it through those difficult days in Major League Baseball."
Robinson's faith is often overlooked because Rickey expressed his Methodist faith in a more outward way. Named Wesley Branch Rickey in honor of Methodist founder John Wesley, Rickey honored his faith by not coming to the ballpark on Sundays.
While Rickey spoke often about his faith, he also was sustained by private prayer.
"Right before Robinson broke in Brooklyn, Rickey went to a church near Ebbets Field (the Dodgers' ballpark) and just sort of silently prayed," Lowenfish said. "Because he knew there could be race riots if the person he chose was going to respond to a racist act on the field."
Robinson rose above the racism he encountered in baseball and helped usher in the Civil Rights movement. Then, after his retirement from baseball, Robinson became involved in the movement and served on the board of the National Association for the Advancement of Colored People (NAACP).
To learn more about how faith "carried Jackie Robinson through the torment and abuse he suffered for integrating the major leagues and drove him to get involved in the civil rights movement" read Jackie Robinson: A Spiritual Biography: The Faith of a Boundary-Breaking Hero.