All Your Benefits, All in One Place—The New and Improved Benefits Access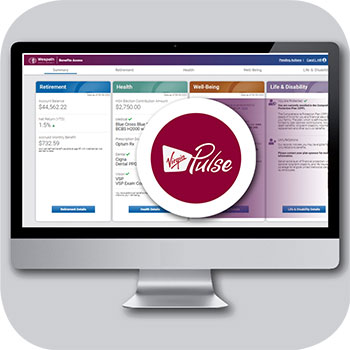 Our lives are filled with so many tasks that create more work for us—accessing all of your Wespath benefits shouldn't be one of them.
With Benefits Access, HealthFlex/WebMD, EY and many other websites, it can be difficult to remember where or how to access your Wespath benefits and services. That changes later this year, when the new and improved Benefits Access becomes your single sign-on website for all your retirement, health, well-being, life and disability benefits.
Want to check your Virgin PulseCash balance or use an EY financial calculator? Need to verify your medical coverage or check on a prescription with OptumRx? The new Benefits Access will take you directly to these websites.
Recent updates to the design and navigation of Benefits Access make it easier to use on your computer and mobile devices. With the new Benefits Access, you will still enjoy the improved site design and navigation with the added ability to see a summary of all your Wespath benefits and detailed benefits information together in one place. Benefits information will be right at your fingertips, whether you're at home or on the go.
If your conference does not sponsor HealthFlex or the Wespath well-being programs, such as Virgin Pulse, Benefits Access will still provide you direct access to your retirement account summaries, projection tools, investment information and EY Financial Planning Services.
HealthFlex participants will still complete Annual Election via the HealthFlex/WebMD site in 2020, but they will be able to access all of their health plan needs (including Annual Election) through Benefits Access beginning next year.
We are committed to improving your online experience and empowering you to take control of and use your benefits to their full potential. We hope you'll see the new Benefits Access is another step in keeping that commitment.
The way you log into Benefits Access will stay the same. Simply use your current Benefits Access login credentials at benefitsaccess.org. Not registered yet? Sign-up today!
See a preview of the new Benefits Access, learn more about the improvements being made, and view FAQs by visiting our dedicated webpage at wespath.org/r/thenewBA.