Healthy Recipe: Poke-on-the-Go Bowl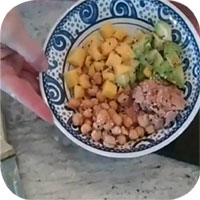 Tuna Poke Bowls are a trending fast-food alternative, providing hungry folks with nutrient-rich, heart-healthy antidote to carb-laden burgers and fries. With this issue's "Healthy Recipe" we bring you Poke Bowl-To-Go—a recipe for Poke Bowls using a base of ingredients that don't need to be refrigerated, so they make eating on the go easier than ever. If you find yourself running from visits, to church, to staff meetings and more without time for a fresh meal, try this easy alternative.
Ingredients:
1 – 6 oz. can packed tuna in water
1 - 7 oz. can chick peas
1 avocado
1 mango
Salt and pepper to taste
2 teaspoons Ponzu dressing or a combination of 1 teaspoon soy sauce and 1 teaspoon lemon juice
This can be served over rice or lettuce, or eaten as-is.
Directions:
Drain tuna and chick peas.
Slice avocado and mango.
Combine all ingredients in large bowl.
Season with salt, pepper and dressing.
Enjoy!
Don't forget to keep a can opener in your car, or buy pop-top cans.