How Wespath Cares for Your Well-Being Remotely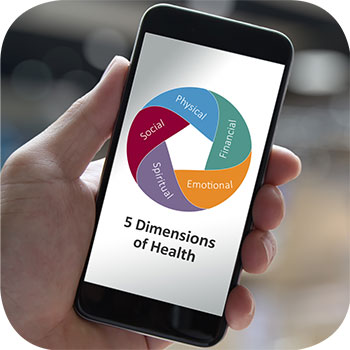 Well-being is an integral focus for Wespath. Well-being isn't just a number like blood pressure or cholesterol. It is far more complex. Well-being involves how we connect with one another. It is also about our resiliency, our finances, and our purpose. For this reason, Wespath well-being programs are designed to offer resources in multiple dimensions.
Wespath uses a five-dimension model to address financial, physical, emotional, spiritual and social aspects covering most areas of life. Individuals interact with and embrace the five dimensions differently. Each dimension influences the others and a healthy balance can help keep a person well. For example, financial stress can impact the physical dimension, social dimension and emotional dimension. Physical complications can affect the social, financial and emotional dimensions, and so on. Through research, we know making improvements in one dimension can positively impact other dimensions. So, no matter where you wish to start, small steps in even one dimension can have a big effect on your overall well-being.
Helping participants live their best life possible is important to Wespath and the Church. Some ways we provide support in each dimension are:
Financial
Wespath manages the pension and retirement benefits for all eligible clergy and laity. This dimension is supported by Benefits Access where you will find current account balances and tools to help you understand your retirement needs. Everyone who has a retirement account balance with Wespath also has access to EY Financial Planning Services. The hallmark of EY is unlimited telephonic access to financial planners that can help on everything from managing debt to estate planning. And stay tuned for the new Saving Grace curriculum coming in November 2020.
Physical
The Physical dimension is supported through a wide array of toolkits and other resources. The toolkits provided in the areas of nutrition, physical activity, diabetes prevention and more are written by industry experts within the Wespath Benefit Plans Department with the goal of providing useful information in easy-to-understand language. Many annual conferences and employers offer the Virgin Pulse well-being program. Participants in Wespath's HealthFlex plan have the Virgin Pulse program as well as other wellness offerings like Omada for diabetes prevention and WW (formerly Weight Watchers). Ask your benefits administrator if these programs are available to you.
Social
The Social dimension is all about connecting with others. It is not about the quantity of friends but the quality of friendships. Think of it this way, the friends you call when you need someone to listen or to help you move are high-quality friends and can be a great support system. Connecting with friends has never been easier digitally, but sometimes a phone call or a handwritten note can go a long way to express your gratitude for their friendship. Wespath.org offers a variety of resources to reinvigorate your social dimension including friendship guidelines and tips for a healthy marriage. And don't forget the social (and physical) benefits of a good walking challenge!
Emotional
The Emotional dimension focuses on resiliency or how you bounce back from a stressful situation. Experiencing high stress situations is very common for clergy even in regular times. In current times, these stresses are even more complicated. It is important to understand how you respond to stress as this can help you bounce back quicker. Improving your resiliency takes practice just like improving your strength or cardiovascular endurance, but it's absolutely worth the effort. View our Resiliency Toolkit for guidance.
Spiritual
The Spiritual dimension includes activities like prayer, meditation and worship as well as relationships with others and God. Each year, Virgin Pulse offers activities that encourage personal spiritual enrichment. Other things you can do are set aside time for spiritual enrichment, focus on work/life balance and review the Wespath-published brochure 50 Ways to Support Your Pastor's Well-being.
Our mission statement at Wespath is "Caring for those who serve". We live into this mission by developing materials and selecting programs/vendors that support the Five Dimensions of Health. Our hope is that you engage with these resources to find your best balance.