Picnic in the Park: Chicken Summer Rolls with Peanut Dipping Sauce Recipe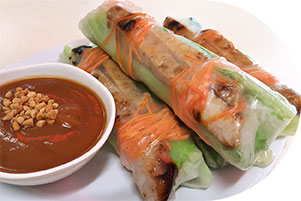 July is Social Wellness Month and Park and Recreation Month! Relationships are a vital part of human nature, so we may not realize how much they can improve our mental and physical health (and the importance of maintaining them). One thing we can rely on to bring people together is—you guessed it—food! Enjoy the warm weather, support your local community, and spend time with your family and friends with a picnic in the park this summer. Consider this simple, healthy summer roll recipe for your picnic basket:
Ingredients
¼ cup powdered peanut butter
¼ cup warm water
¼ cup hoisin sauce
2 tsp soy sauce
2 tsp chili garlic sauce
2 tsp unseasoned rice vinegar
(6) 6-inch rice paper wrappers
1 ⅓ cups packaged coleslaw mix (shredded cabbage and carrots)
⅔ cup red bell peppers, cut into thin strips
3 oz cooked boneless skinless chicken breast, cut into thin strips
1 Tbsp cilantro
1 Tbsp basil
1 Tbsp peppermint leaves
Instructions
In a small bowl, whisk together powdered peanut butter and water until fully combined; whisk in hoisin sauce, soy sauce, garlic sauce, and vinegar.
Briefly soak rice papers in warm water to soften them; set on a work surface.
Divide vegetables, chicken, and herbs amongst wrappers; drizzle each with 2 tsp sauce.
Roll up wrappers burrito style; serve with remaining peanut sauce.
Notes
The rolls can be made several hours ahead of serving. Store refrigerated and covered with a damp paper towel.
https://www.weightwatchers.com/us/recipe/chicken-summer-rolls-with-peanut-dipping-sauce/570e46fefe2aa0d3159d7c28
WeightWatchers (WW) 101

Who: If you are a HealthFlex participant, you, your spouse and your dependents age 18 or older are eligible for a WeightWatchers discount.
Cost: $8.48 per month for the digital plan; $19.11 per month for the digital + workshops plan. That is more than 50% off the retail price.

Learn more: Visit the WeightWatchers page on the Wespath website