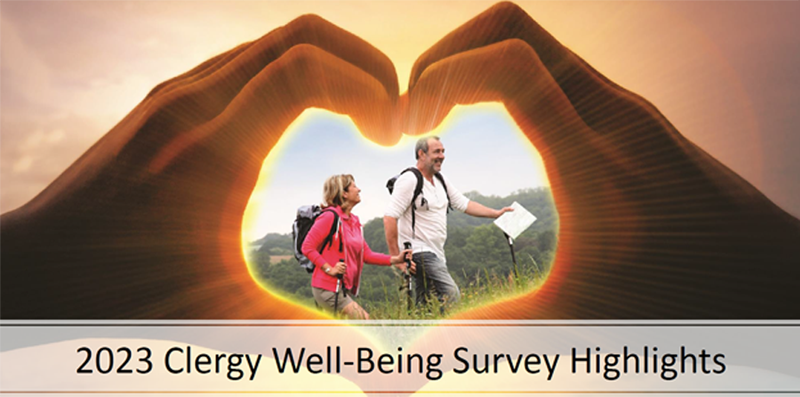 I'm Ok. You're Ok. Are Clergy Ok? Clergy Survey Shows Well-Being Trends
Wespath recently unveiled the findings of its seventh biennial Clergy Well-being Survey, offering important insights into the current state of clergy across the five dimensions of well-being: physical, spiritual, social, emotional and financial.
Over 1,200 clergy—spanning a wide range of demographics—participated in this year's survey, revealing both positive and concerning changes since the 2021 survey and helping Wespath identify trends over the past decade since the survey's launch in 2012.
So how are clergy doing in 2023? Below are a few takeaways; full survey results are available here.
Clergy reported improvements in spiritual vitality in their daily lives and their ministry, compared to 2021
The number of full-time clergy who reported working 51+ hours per week has declined over the past decade, but clergy still feel stress from demands of their job
Obesity, diabetes and hypertension continue to rise, impacting physical well-being over the past decade
Stress and depressive symptoms remain a serious concern among clergy compared to 2021 and over the last 10 years
Over the past decade, there has been a steady decline in clergy self-reporting "very good" or "excellent" health – a recognized way to measure overall well-being
The insights that clergy provide through this survey help shape future Wespath programs. The survey also helps United Methodist communities understand how they can support their clergy.
For instance, the 2021 survey results showed a continued decline in emotional well-being as a result of factors including the pandemic, which prompted Wespath to create the on-demand First Aid for Mental Health webinars and First Aid for Mental Health Champions Training. The webinars and training help individuals (clergy, congregants, spouses, church leadership, families and others in the community) learn how to identify mental health concerns in others, respond with empathy and help those affected find the support they need. Thousands of individuals across the United Methodist Church attended these training sessions in the last 18 months!
"The First Aid for Mental Health training provided a framework and skills to practice empathy and compassion with everyone I encounter, including myself, and to remember that, just like we may get injured physically we also may experience a psychological injury or illness, such as anxiety or depression," shared Cynthia Dopke, Church Relations Manager at Wespath, when asked why she found the training valuable. "We can seek treatment for our mental health just like we see doctors to help with our physical health. All aspects of ourselves – body, mind, and spirit – are affected when we experience difficulties in life, so it's important to care for our whole selves and encourage the same for others."
In the coming months, Wespath plans to foster and encourage conversations about clergy well-being with leaders and members across the UMC connection. Ultimately, caring for clergy's well-being is a key tenet of Wespath's mission. And when clergy are well, they are better able to care for the well-being of the families, congregations, and communities around them.