The Science Behind Universal Happiness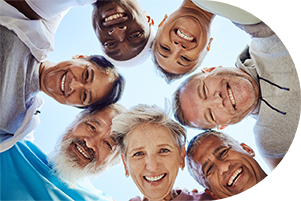 The world's longest-running scientific study conducted by Harvard University has followed individuals for generations, seeking to determine what makes people "thrive." The results show it doesn't matter whether you're 20 or 80, a recent college graduate or well into retirement, the key to happiness remains the same: social fitness.
Come again? According to Dr. Robert Waldinger, the current director of the Harvard study, being "socially fit" means you prioritize and nurture relationships you value on a regular basis. These connections provide a sense of fulfillment and are vital to our happiness and well-being.
And this is science how? Chronic stress wreaks havoc on the body and mind—it can weaken our immune system and put us at higher risk of major illnesses and conditions. According to Dr. Waldinger, strong, deep relationships are stress relievers, "if you think about it, if I have something upsetting happen during the day and I'm ruminating about it, my body revs up. And if I have somebody who's a good listener that I can go home to or call on the phone, I can literally feel my body come down, go back to baseline…that's how relationships relieve stress and keep us healthy."
I'm ready to hit the social gym! Here are five ways to strengthen your social fitness:
Invest time in relationships. Prioritize your relationships consistently. Too often, we consider time with friends a special treat, rather than thinking about it as something that will improve our overall well-being. Waldinger says we must really tend to our relationships, just as we care for our physical health and fitness.
Reach out and connect. Take small (or big) steps towards building stronger connections. Waldinger says, "think of somebody you miss or would like to see more of, and just send them a text. Send them an email. Call them on the phone." Make plans to connect soon and stick with them!
Create new connections. Friends can be made at any age, but it's easiest to start with a commonality. As Waldinger says, "when we're engaged in activities that we care about with other people who care about the same things, we start out with something in common. And from there, it's very natural to strike up conversations and, with some of those people, make deeper relationships."
Be present. When you're with the people you care about, maximize your time and the experience by being present in the moment. Put away your phone and invest your energy in your time together. It will feel more energizing and fulfilling.
One size doesn't fit all. Whether you are an extrovert or an introvert, you can decide what types and numbers of relationships fulfill you. That could be a bunch of good friends, or just a few. Waldinger says, as long as you feel comfortable and connected, your relationships are benefiting you in many ways.
And one more thing. This article written by Waldinger and his associate Marc Shultz, PhD, shares an exercise on how you can "take stock" of your relationships to better understand where you should dedicate your time and energy. It even provides you with a table to complete, which can help you better visualize where your deepest relational connections lie.
Sources:
https://www.cnbc.com/2023/02/10/85-year-harvard-study-found-the-secret-to-a-long-happy-and-successful-life.html
https://www.npr.org/2023/01/15/1149063567/whats-the-1-thing-to-change-to-be-happier-a-top-happiness-researcher-weighs-in
https://www.npr.org/2023/06/05/1180213004/lessons-for-living-a-happy-life-according-to-science