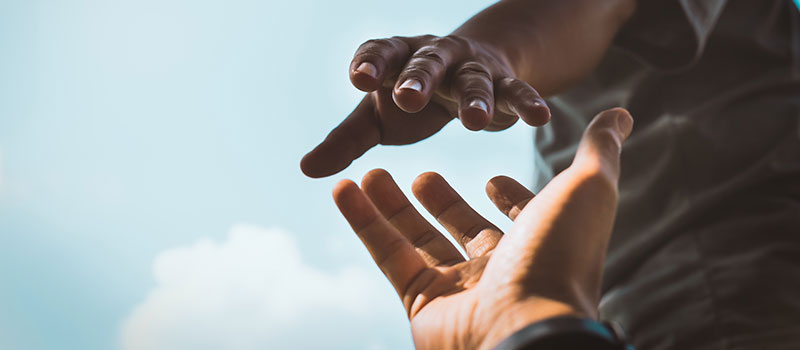 The Beatles Were Right: We Get by With a Little Help from Our Friends
As children or young adults, it was easy for many of us to make friends on the school playground or in the college dorm. But adults often find it challenging to add to their group of friends. This isn't anyone's fault.
Marisa G. Franco, a psychologist and University of Maryland professor, told the Boston radio station WBUR that there are two ingredients to making friends naturally: continuous unplanned interaction and shared vulnerability.
"As we become adults, we have less and less environments where those ingredients are at play," Franco said.
Making new friends requires a little effort—but it is worth it. The Mayo Clinic reports that adults with strong social ties have a reduced risk of high blood pressure and depression and older adults who have significant relationships tend to live longer. Here are a few tips to help you foster new friendships:
Become a joiner
Do you enjoy reading a specific genre of books or have a favorite author? Visit your local library or bookstore to see if there is a book club you can join. Have you always wanted to learn to paint better with watercolors? Are you someone who enjoys being physically active and would like to give pickleball a try? See if your local park district or community center offers classes.
Susanna Guarino, a licensed mental health counselor in private practice, explained in a Parade magazine story that when you participate in activities you care about, you are likely to meet other people with similar interests and values.
Put down the phone
Instead of waiting for other people to approach you while you browse on your phone, take the initiative and introduce yourself to someone nearby the next time you're at an event or watching your child's softball game.
If you sense you are forming a bond, it's critical to ask for contact information, according to Franco. If your attempts at making conversation aren't successful, don't beat yourself up. Instead, psychotherapist Arlene B. Englander advised that you do the opposite.
"Congratulate yourself on having the courage to have taken that risk. Take a breath and when it feels appropriate, try again with someone else," Englander said in a Healthline story.
Be kind to yourself—and others When trying to meet new friends, it's helpful to remember an old cliché: Don't judge a book by its cover.
Psychiatrist Dr. Rashimi Parmar told Healthline that it's important to have an open mind when meeting someone new.
"Try to be a little more forgiving and flexible during your interactions and give the person more time to grow on you," she was quoted as saying.
Parmar also noted that it's important for people to work on their self-esteem and self-confidence. She recommends that her patients engage in positive self-talk and exhibit compassion for themselves.
Markesha Miller, a licensed psychotherapist, told Parade magazine that when you are happy with yourself, it makes it easier for other people to see your positive qualities.
Don't forget to keep in touch with your old friends
While making new friends is important to our social wellbeing, so is maintaining relationships with our longtime friends from childhood, high school, college or previous jobs. Even though our geographical location, families and careers can prevent us from getting together often, it's important to stay connected—and technology and social media make it easy! Pick up the phone or iPad and call, video chat or text an old friend today. It will make you feel good, and your voice might just be something an old friend needed.
Additional resources if you would like to learn more:
Healthline: 10 Tips for Making Friends at Any Age, According to Experts
WBUR: You're not uncool. Making friends as an adult is just hard
Parade: Making Friends as an Adult Isn't Easy, so We Came up With 102 Expert-Backed Ways to Do It
Mayo Clinic: Friendships: Enrich your life and improve your health