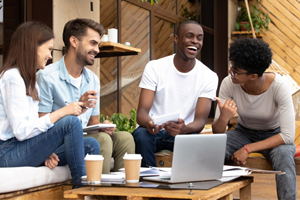 How to Ease Back Into Social Interactions After a Year of Isolation
Over the past year, social distancing and isolating at home were all too normal. However, with a number of Americans vaccinated against COVID-19, many of us are planning picnics, play dates and parties.
If the thought of socially interacting with others right now leaves you feeling a bit anxious, you're not alone.
"Humans are creatures of habit, so initially, adjusting to isolating at home was incredibly challenging," Dr. Paraskevi Noulas, a psychologist at NYU Langone Health, was quoted as saying in an article on the Healthline website. "But now, a year later, we're accustomed to the new normal.
"Our ability to adjust is a double-edged sword because now that we're used to isolating so much, it's going to be yet another transition to engage with others socially in person again, both indoors and outdoors."
You might have feelings of fear, anxiety and discomfort. And after a year of video calls, in-person interactions could be an adjustment. Many of us are out of practice at communicating non-verbally by making eye contact and picking up on both facial cues and body language.
It is OK to struggle with this, but you might be wondering how to cope. Noulas said in the article that exposure therapy is the best treatment for people with anxiety. This entails gradually and safely easing into social interactions.
Try these tips to slowly ease your way back to comfortably interacting with others in person:
Start slow – Connect with those in your innermost circle—the friends and family you feel most comfortable with. Consider meeting at your favorite park for a picnic where there is space to meet at a comfortable distance.
Visualize what a social gathering will look like – Think about what you will say at the upcoming encounter. You can take it one step further by role-playing the social event, especially the parts you are concerned about, with someone you trust.
Be gentle and kind to yourself – Do not feel like you have to force yourself to do something you are not comfortable with. Instead, Noulas recommended in the Healthline story that people ease back into social interactions. She said that if you received invitations to several social gatherings and that made you anxious, start by going to one or two.
Set boundaries on social interactions – Depending on your vaccination status, you may not be ready to give hugs, interact indoors, remove your facemask or stand close to other people. It's OK to set your boundaries. You don't have to give in to peer pressure, but do communicate your comfort level with your friends and family with compassion. For example, thank people who share hand sanitizer or let friends and family know in advance if you prefer to meet outdoors or not share a meal.
Ask for help and support – You can turn to a friend, a loved one or a mental healthcare provider for assistance. For some, the pandemic has caused trauma and post-traumatic stress disorder (PTSD). Please know that you are not alone.
HealthFlex participants can explore Wespath's emotional well-being resources such as the Employee Assistance Program or behavioral health benefits. Neither your conference nor your employer will be informed if you use this resource. For families covered by HealthFlex, the EAP provides eight free sessions per concern and you can call 1-866-881-6800 to get started. Sessions can be virtual or in person. Details can be found on the emotional well-being webpage at https://www.wespath.org/health-well-being/health-well-being-resources/emotional-well-being.