Warm Your Body and Soul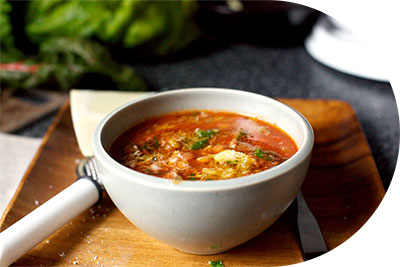 Soup is a perfect antidote to winter weather – especially when it's full of healthy vegetables and lentils. A small amount of sausage adds great flavor, but can easily be left out to make a delicious and comforting vegetarian meal.
Ingredients
1/2 cup olive oil, divided
2 large links (about 8 ounces) of sweet Italian sausage (optional)
1 medium onion, diced
2 celery ribs, sliced or diced
2 medium carrots, peeled and sliced into half-moons or diced
4 cloves garlic, sliced (reserve half for later in recipe)
Kosher salt
A pinch of crushed red pepper flakes (optional)
1 cup brown lentils, sorted and rinsed
2 bay leaves
(1) 28-ounce can crushed tomatoes
6 cups water
Freshly ground black pepper
3 to 4 cups shredded or thinly sliced Swiss chard leaves or kale
Grated Pecorino Romano cheese to finish
Instructions
Heat 1/4 cup olive oil (enough to generously coat bottom of pot) in a large pot on medium to medium-high heat.
When hot, add the sausage, breaking it up with a wooden spoon until it starts to brown, about five minutes.
Add the onion, celery, carrots, first two garlic cloves, a pinch of salt, and if you like your soup spicy, a pinch of red pepper flakes.
Cook with the sausage until the vegetables soften a bit, another five minutes.
Add the lentils, bay leaves, tomatoes, water, more salt and black pepper to taste. Bring to a simmer and allow to cook until the lentils are tender, about 40 minutes.
When the lentils are cooked, add the chard and cook until the leaves are tender, just a few minutes more. Discard the bay leaves.
To finish, divide soup among bowls, then add the remaining 1/4 cup olive oil and 2 garlic cloves to a small skillet and heat over medium until the garlic softens and hisses.
Drizzle garlic oil over soup bowls, and top with fresh Romano, passing more at the table.