One Step at a Time: A Journey of Body, Mind and Spirit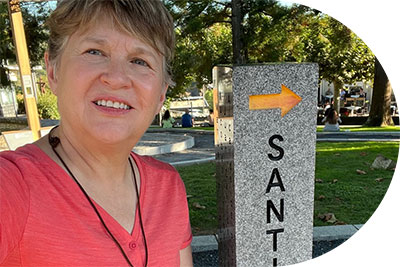 The Reverend Joyce DeToni-Hill's pilgrimages in Europe are examples of life imitating art.
DeToni-Hill, who is 62 years young, was inspired to walk the Camino de Santiago (which translates to "The Way of St. James"), a network of historical routes spanning throughout Europe and ending in Santiago de Compostela, Spain, after watching the 2010 movie "The Way." In the movie, Martin Sheen's character traverses the Camino de Santiago and forges bonds with the individuals he meets along the way.
DeToni-Hill first felt called to the Camino de Santiago in 2016. She was looking for direction in her life following 30 years in ministry. She returned to the route in 2018 after being diagnosed with breast cancer, and again in the summer of 2022 after shepherding her church, Phillips United Methodist Church in Lakewood, Colorado, through the COVID pandemic. These walking pilgrimages helped DeToni-Hill find continued meaning and strength.
DeToni-Hill discovered that she wanted to share the experience with others. With the blessing of Mountain Sky Bishop Karen Oliveto, DeToni-Hill posted on Facebook, inviting others in her community to journey across the Atlantic and walk the Camino de Santiago with her during the last two weeks of September 2022.
"A walking pilgrimage, specifically on the Camino because that's what I knew, was so beneficial for me for health, body, mind and spirit that I found myself saying, 'I know that this experience, this kind of experience, could be a healing experience for other clergy for the same reasons,'" DeToni-Hill said.
She believed a walking pilgrimage could especially benefit her clergy peers, who sometimes feel isolated.
"At the Mountain Sky Conference, we're really [geographically] spread out," DeToni-Hill said. "I thought this could be a really good way to reconnect in [the] spirit of community. Just walk it out. Walk out the stress and the fatigue, reconnect with the world and with each other."
DeToni-Hill was pleasantly surprised that people expressed interest right away—seven women, an ecumenical group of one lay person and six pastors from across the country, wanted to join her on the journey. DeToni-Hill and four other women were Mountain Sky clergy.
DeToni-Hill, who served as the spiritual director for the pilgrimage, organized a series of Zoom meetings ahead of the trip so the group could get to know one another. Not only did these serve as introductory meetings, they also helped build the foundation for a spiritual pilgrimage.
"I had them identify intentions. For me, that's what makes pilgrimage a pilgrimage," DeToni-Hill said. "'What do I want to get out of this? And how can I invite the community to support me?'"
Several members of the group had clear intentions—such as transitioning to retirement—but others had to do more reflection before identifying their intentions.
The group traveled to Sarria, Spain, on September 19, 2022, and began the two-week journey. At the start of the pilgrimage, DeToni-Hill noticed one of the members in the group was limping. The woman shared that she had injured her knee, but felt compelled to complete the pilgrimage. She initially rebuffed offers from others to help carry her backpack, but by the second day her knee was swollen, and she struggled to walk.
"One of the biggest challenges that I think we as clergy have, is asking for help and admitting our vulnerabilities," DeToni-Hill said. "Finally, this woman turned her backpack over to the group and she just wept and said, 'It's so hard for me to ask for help.' But once she did that, she was able to learn how to take care of herself by resting, pacing herself and using a taxi."
It was a breakthrough moment for the group member, and it was among DeToni-Hill's highlights of the pilgrimage.
Another member of the group was diagnosed with breast cancer three days before leaving for the trip—and she shared the news with the group on the first day.
The woman said, "'I don't know what to do with this [information], but I invite you to walk with me. I don't want anyone to fix it. I just want you to walk with me as I figure this out,'" DeToni-Hill said. "So we gave her space to share. And she gave herself space to listen for what she needed."
While the walking pilgrimage lasted two weeks, the shared journey didn't stop when the women returned home. The eight women have remained in touch via WhatsApp. They check in with each other almost daily. A second member of the group was diagnosed with cancer after the pilgrimage and many prayers are extended from the group members to the individuals battling cancer.
"They say now that the community that we have formed has been life-giving for them," DeToni-Hill said. "They don't know what they would have done had they not found community to literally walk far together. That's my highlight."
"This was my hope for each one of them: Find a way to reconnect with themselves, with God and with community. We took a risk. We didn't know each other. …We walked for two weeks. And my gosh, we found community. We found each other. We found sacred space."
Rev. Joyce is already planning her next Camino de Santiago trip in September of 2023.